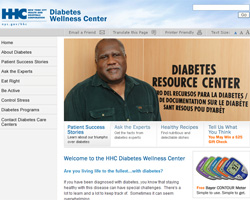 New online diabetes wellness center for HHC patients.
Diabetic patients looking for help to get healthy, and stay that way, can find it by going to the Diabetes Wellness Center, a new interactive web site that HHC launched this month. The web site features advice from HHC doctors, nurses and nutritionists, success stories from patients, healthy eating and exercise tips, and a list of support groups and diabetes wellness classes available in all 11 public hospitals.
When people want information about a symptom or an illness today, they often turn to the internet, and now HHC will be there to provide them with extensive, expert information.
"When I was told I had Type 1 diabetes 5 1/2 years ago, I immediately went online because I didn't understand anything about it at first. I learned a lot from the information I found on the internet," said Zambani Irguov, a patient at Coney Island Hospital.
Today, Irguov is one of the people profiled on the HHC online Diabetes Wellness Center.
"I participated because the information there is very helpful and gives me new ideas for managing my diabetes and staying healthy," Irguov said.
"We want to help patients take control of their diabetes care and become true partners with their physician and other healthcare team members. To accomplish this, patients need a lot more support and encouragement beyond what they can receive during periodic visits to their doctor because diabetes must be managed around the clock," said HHC President Alan D. Aviles.
The site includes downloadable forms that help patients keep track of their blood sugar readings and provide questions to bring to a doctors' appointment, and a Diabetes IQ test that tests basics knowledge of diabetes. Patients will even find out how to get free blood sugar monitors.
The HHC online Diabetes Wellness Center will be promoted at HHC hospitals and clinics, and through direct mail to more than 58,000 diabetic patients who are monitored through HHC's Diabetes Patient Registry, an electronic disease-tracking program that greatly improves doctors' ability to comprehensively monitor and more effectively manage diabetes among patients. HHC pioneered the use of the electronic registry for patients with diabetes and has seen a significant increase in the number of patients who have achieved healthy levels of blood sugar, blood pressure and cholesterol – the three leading indicators of good diabetes care. In 2008, HHC diabetic patients achieved better quality outcomes than those achieved at the state or national level in 2007.
Diabetes is epidemic in New York City, fueled by the increase in obesity nationwide and worldwide. According to the New York City Department of Health and Mental Hygiene, in the past 10 years, the number of people with diabetes in the city has more than doubled. An estimated 530,000 adult New Yorkers know they have diabetes and another 265,000 New Yorkers have diabetes and don't know it.
The HHC diabetic patient population is 59% female and 41% male. Approximately 44% are Latinos, 35% black, 5% Caucasian, 4% Asian and 13% are other ethnicities.

December 2009