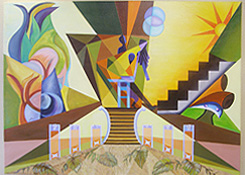 "Autumn Dreams"-Painting donated to Metropolitan Hospital by artists at the Leonardo Covello Senior Center
Twelve artists from the Leonardo Covello Senior Center in East Harlem gave their very finest to the recently opened Geriatric Inpatient Unit at Metropolitan Hospital -- a painting entitled "Autumn Dreams."
"In nature, we find four seasons -- spring, summer, autumn and winter," said Ms. Piedad Gerena, one of the creators of the piece. "It doesn't matter that we are living in autumn, since our spirit and mental abilities continue to vibrate as if it were spring, capturing all the beautiful elements of the universe."
November 2009