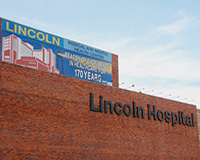 Lincoln Hospital
Lincoln Medical and Mental Health Center celebrated its 170th anniversary this year in a gala event that raised $20,000 to benefit Lincoln's pediatric diabetes services. Lincoln's program currently helps 50 children with diabetes manage this serious disease.
Lincoln's history goes back to 1839, when a group of prominent New York activists formed the "Society for the Relief of Worthy Aged Indigent Colored Persons," writing the first chapter in the history of what would evolve into the Black Home and Hospital towards the end of the 19th century. The hospital played a pivotal role in the 1866 cholera outbreak when it became the most active in treating cases in New York City while operating from its First Avenue and 51st Street location in Manhattan. The hospital moved to the Bronx in 1898, and became the site of the Lincoln School for Nurses -- the first school in the nation to teach nursing arts to black women. It moved to its current site on 149th Street and Morris Avenue in March of 1976.
Today's Lincoln Medical and Mental Health Center is known for innovative programs that address the specific needs of the community and strive to eliminate disparities in health outcomes that affect minority communities in urban settings.
November 2009