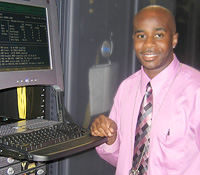 Corey Cush, HHC Assistant Vice President of Corporate Networking Services
Corey Cush was ready to march down 5th Avenue along his battalion colleagues in the New York City Veteran's Day parade. But Cush was once again called away to duty - just not so far this time. Unlike his last 18-month deployment to Afghanistan, his commander asked him to join an event at the military academy in West Point.
Cush, who is Assistant Vice President of Corporate Networking Services at HHC, is also a Command Sergeant Major in the Army National Guard. Whether answering his nation's call to serve overseas, or responding to urgent computer network needs at HHC, Cush can be counted on.
Cush was responsible for 2,100 service members in the Army, Navy, Marines and Air Force in Kandahar, Afghanistan. He has extensive leadership experience and is particularly proud to have been part of an operation to train the Afghan National Security Force which consists of the Afghan Army and Police.
"I have seen firsthand how much the people of Afghanistan need our help," said Cush. "The National Guard is perfectly suited for this mission due to the fact the Guard Soldiers hold various different positions in their civilian lives which contributes to overall mission." We have extensive experience in training in a wide variety of environments. My responsibilities also included mentoring my counterpart in the Afghan security force."
He finds that his experience at HHC and the National Guard complement each other.
"I brought the computer savvy that I learned at HHC to my service in the National Guard, and my military experience gives me valuable lessons in leadership that I can bring back to HHC."
Cush has received numerous military commendations and awards, most recently the Bronze Star for meritorious service in a combat zone. He's understandably proud of his service in Afghanistan, but he's happy he's back home.
Back at HHC, the serious commitment Cush brings to his National Guard service is similarly appropriate to his leadership of the computer networking operation in the nation's largest public healthcare system. His team of 70 computer technicians, network engineers and database administrators are responsible for the Corporation Internet, Wide Area Network, Local Area Network, Email system, Storage, network security and even the Blackberries that help staff keep in touch while they're on the run. Even though Cush rarely sees a patient, his department's work affects thousands of people every day.
"This is the 21st century," said Cush. "If the network goes down, patients can't be registered, the clinical system can't run, the electronic health records aren't accessible. Business basically stops. It's our job to make sure these systems stay up and running 99.999% of the time to ensure patient care."
November 2009