Over the last decade, HHC has embarked on the largest hospital construction and modernization project in the city's history. Despite tough economic challenges facing the NYC public hospitals, smart building investments continue to facilitate HHC's ability to upgrade health facilities that will serve a new generation of New Yorkers in modern, comfortable and high-tech spaces that are keeping quality and safety at the forefront. Recent building milestones and the expansion of labor and delivery services for Bronx residents confirms that the next generation of New Yorkers will continue to have access to quality medical care.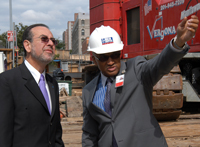 HHC President Alan D. Aviles with Harlem Hospital Executive Director Dr. John Palmer at Harlem's new Patient Pavilion steel topping ceremony
Harlem New Patient Pavilion
Harlem Hospital Center celebrated a significant milestone in its $272 million modernization project with a steel topping out ceremony on September 17th. The event marked the completion of the structural steel construction for the hospital's new Patient Pavilion. The five-year plan includes demolishing antiquated buildings, renovating space and building the new Pavilion, which will integrate the inpatient, emergency room, and outpatient services. Harlem Hospital has more than 270 beds and provides 270,000 outpatient visits and 73,000 emergency visits each year. The modernization will enable HHC to meet growing community needs well into the future. Completion is expected in 2012.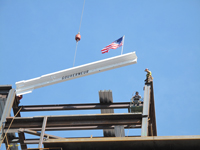 Steel topping for Gouverneur's Ambulatory Care Pavilion
Gouverneur Ambulatory Care Pavilion
On September 21st, just 12 months after breaking ground, Gouverneur Healthcare Services marked a milestone in the $180 million modernization with a steel topping out to celebrate the placement of the final steel beam on the roof of the future Ambulatory Care Pavilion. The project, which is expected to be completed in 2012, will create The Center for Community Health and Wellness that will serve more than 345,000 outpatient visits a year. The project will also feature a new nursing facility design, representing the next generation in long term care. The Residence at Gouverneur Court will resemble a well-appointed apartment building and include recreational and dining areas, private rooms and suites and a resident-centered design to foster a sense of community.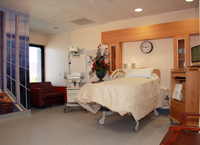 Lincoln's new Labor and Delivery Suite
Lincoln Hospital Labor and Delivery Suite
A ribbon-cutting ceremony on September 29th marked the official opening of Lincoln Hospital's new Labor and Delivery Suite, spanning an area of 12,000 sq. ft. The opening is the final phase of a multimillion dollar capital investment that includes the modernization of the adjacent postpartum, neonatal and nursery units. The Birthing Suite offers comfortable, family-friendly rooms equipped with cozy lounge chairs, private bathrooms, personal closet, flat screen televisions and telephones. The new birthing suite consists of eight labor and delivery rooms, two C-Section Operating Rooms, five exam rooms and a spacious recovery room. More than 2,400 babies are born at Lincoln each year.
October 2009