Meryl Weinberg, Metropolitan Hospital Executive Director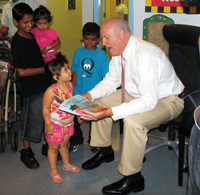 Congressman Joseph Crowley reads to children in a Pediatric Clinic.
Information takes on more importance when it comes from a physician, so HHC staff are helping to pass on good advice to parents by asking that they begin reading to their children at an early age. As part of the Reach Out and Read program, HHC facilities are sending kids home from check-ups with free books and a very important prescription: "read aloud to your children and make reading part of a healthy lifestyle." Doctors give new, developmentally and culturally appropriate books at every check-up from 6 months to 5 years. During a recent Reach Out And Read event, Metropolitan Hospital Executive Director Meryl Weinberg read to over 30 children at a neighborhood Barnes and Noble. At Elmhurst Hospital, Congressman Joseph Crowley read to children in the Pediatric Clinic.
October 2009