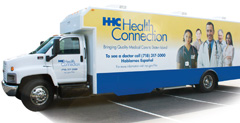 The Mobile Medical Office used in Staten Island.
To Reverend Terry Troia, the new services of the HHC Health Connection, a mobile medical office expected to accommodate up to 4,000 patient visits a year, is a giant leap in getting high-quality healthcare to Staten Islanders who need it.
"Bringing healthcare to people in their own communities where they are comfortable and feel at home makes a big difference," says Rev. Troia, Executive Director of Project Hospitality, a non-profit social service agency that has been serving local residents for 27 years.
The HHC mobile medical office is staffed with a doctor, a registered nurse, a patient care associate, and a financial counselor. It's equipped with a patient reception area, two exam rooms, an electronic medical record system, and modern diagnostic equipment. Services are provided Monday through Friday in five different communities across the Island, in locations where partner organizations provide additional social services.
Patients receive standard primary care, together with a wide array of screening and diagnostic tests. When an uninsured patient needs more specialized expertise not readily available on Staten Island, an appointment is made at HHC's Coney Island Hospital and a van is scheduled to provide round-trip transportation.
"The diagnostic services are very important, and the help to get free or low cost medications is a lifesaver," said Rev. Troia, referring to HHC Options, HHC's program to provide affordable healthcare services, including prescription drugs, to uninsured patients based on family size and income. "One woman with a heart condition needed drugs that would have cost hundreds of dollars. When she got care through HHC and used their pharmacy, she received all those medications for $40."
The mobile medical office is the most recent HHC initiative to bring healthcare to the growing population of uninsured and low-income New Yorkers on Staten Island. Through financial support and technical leadership, HHC assisted in the establishment of the Community Health Center of Richmond, which provides primary care to children and adults. Within the last year, services were expanded at both HHC health centers on Staten Island, at Mariner's Harbor and Stapleton, to provide needed healthcare for adults, in addition to children.
Rev. Troia is enthusiastic about the HHC Health Connection mobile medical office, but she's not about to rest. She's looking forward to the two diagnostic and treatment centers HHC expects to open on Staten Island in 2011 and 2012 to provide even more access to the primary care and specialized healthcare services for Staten Islanders in need.
"We've come a long way," she said, "and we're almost there."
September 2009