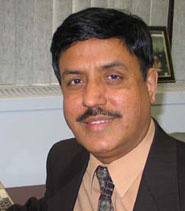 Dr. Ramanathan Raju, HHC's Chief Medical Officer
Dr. Ramanathan Raju, HHC Chief Medical Officer, participated in a number of citywide workgroups this summer to develop the City's comprehensive H1N1 preparedness program. Dr. Raju answers some questions about how HHC hospitals plan to handle a potential new wave of the H1N1 virus.
Q: How was HHC affected by the H1N1 outbreak last spring?
A: HHC was at the forefront of the H1N1 outbreak in spring 2009. Our emergency departments saw about a 35 percent increase in visits during May -- the height of the H1N1 scare - and in some places the volume went up by 50 percent or more.
Q: Are you ready for a second outbreak?
A: Absolutely. First, we want to make sure New Yorkers get vaccinated. That's the best protection against the flu. If there is a similar outbreak, we will activate some of the effective strategies that helped us manage the spring surge of patients in our hospitals, including having a triage nurse at the entrance of the emergency rooms to help identify patients with influenza-like symptoms who may need treatment and the symptom-free "worried well" who just need reassurance. And we will be prepared to designate alternate care sites, extend primary care clinic hours and redeploy staff as needed.
Q: What's the difference between the seasonal flu and the H1N1 flu?
A: Flu (influenza) or seasonal flu is a viral infection of the nose, throat, bronchial tubes and lungs. Symptoms include fever, cough, sore throat, chills and body aches. H1N1 (swine) flu is a new strain of the flu virus and is similar to the regular seasonal flu. Young people were the most affected by H1N1, unlike the regular seasonal flu which most commonly affects the elderly. We anticipate H1N1 will continue to cause relatively mild symptoms, based on how it has behaved in different parts of the world over the last few months. But the city and HHC are ready if that should change.
Q: Where can I go to get a flu shot?
A: You can get a flu shot from your family doctor or at dozens of flu centers and community based clinics across the city. HHC patients can receive flu shots as part of any routine visit or by making an appointment with their primary care doctor at an HHC facility. Once the H1N1 vaccine becomes available, HHC will designate Flu Centers where our patients and members of the public who do not have a primary care physician can get the flu vaccine at little or no cost.
Q: Do I have to pay for a flu shot?
A: Low and moderate income patients will receive the flu vaccines for free at HHC facilities. Higher income patients will pay a modest administrative fee. If a patient has Medicaid or other health insurance that covers flu vaccination, the insurance plan will be billed.
Q: Will you have enough flu shots for everyone?
A: Last flu season we administered approximately 236,000 seasonal flu shots to patients and staff. We are planning for at least 100,000 more this season. And as soon as the H1N1 vaccine is available, we will make those widely available to all our staff, patients and members of the public. The City expects the first large shipment of H1N1 vaccines by mid to late October and additional vaccine every week after that. We should have ample supply.
Q: Is this vaccine safe?
A: Absolutely. The H1N1 vaccine will go through the same development and safety testing process that other normal seasonal flu vaccinations go through before they are distributed to the public.
Q: Is there a priority list of people who should get a flu shot?
A: An H1N1 flu shot is recommended for: pregnant women, young people ages 6 months to 24 years, people ages 25 to 64 with chronic health problems, and anyone who cares for children younger than 6 months. The seasonal flu shot is recommended for all those groups and also people older than 50.
Q: Will healthcare workers have to be vaccinated?
A: Yes. The State of New York has issued a new mandate that requires most healthcare workers to be vaccinated against influenza. HHC will begin to offer the seasonal flu shot to our staff for free and will administer the H1N1 vaccine to our employees once it is available.
Q: What should I do if I get sick?
A: Avoid the Emergency Room unless you are very sick. There's no need to go to an emergency room if you are experiencing typical flu symptoms like cough, body aches and mild fever. Get lots of rest, drink fluids and monitor your fever. The best protection for you and others is to stay home until 24 hours after your flu symptoms ended. Of course, if symptoms get worse, or if you have other conditions that place you at higher risk -- such as diabetes, asthma or sickle cell -- consult with a doctor right away.
September 2009