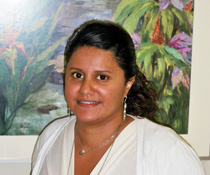 Sylvette Vargas, Peer Counselor at Kings County Hospital's Behavioral Health Center

McKinnis said he was already an adult with a degree in Psychology from Marist College when he got involved in selling and using drugs in Brooklyn, where he was living. He sought treatment at Bellevue Hospital and Bronx Lebanon Hospital. Doctors diagnosed him as a chronic paranoid schizophrenic.
"I was flabbergasted," he said. Recovery wasn't easy, and he was in and out of treatment several times before making it.
Now McKinnis is known as someone adept at navigating the system to line up the various support services that many patients need.
"He's passionate about working with the patients. His big thing is he goes out and gets the information that the patients need," said Dr. Miriam Azaunce, Associate Director of Wellness and Recovery.
A peer counselor must have nine months of training in patient advocacy, including three months of on-the-job training as an intern; experience in the field; or both. In addition all peer counselors must undergo a 48-hour training program at Kings County.
The hospital has hired 12 peer counselors since August and plans to hire nine more. Dr. Azaunce said they serve as a liaison between the patients and the staff and help to break down stereotypes about mental health patients since they are former patients who are now working and thriving.
"I love to do what I do," said Vargas, who works in the in-patient unit. "I can really empathize with people who have been patients. I love to see people grow and become better, and become the people I know they can be."
She said she is working with a patient whose family is ashamed of her mental illness and is not supporting her as she struggles to get better. "I could tell she was happy to have somebody helping her. This person has touched me because every day, she's pushing forward," Vargas said.
July 2009