For 10-year-old Omar Babb, an asthma attack used to be a constant threat looming in his life, an event that came on without warning and could not be controlled. But ever since attending the Superkids Summer Experience, a summer camp for children with asthma, his life has changed.
Through games, arts and crafts, and exercise, the staff taught Omar and other Superkids what things trigger their asthma attacks and how to avoid them, and the importance of staying strong and fit by exercising and eating healthy foods.
"My asthma was like, all over the place," when he started attending the camp last year in Brooklyn, where he lives, Omar said. "Now I've learned to control my asthma. I learned a little secret about how your asthma doesn't control you too much if you don't let it."
Omar overcame an extreme fear of water and learned how to swim.
"Many people believe swimming will be difficult for asthmatics but in fact it teaches them how to control their breathing and is an excellent physical activity," said Dr. Benjamin Ortiz, Medical Director of the Superkids Summer Experience and Assistant Attending Physician in the Department of Pediatrics at Harlem Hospital.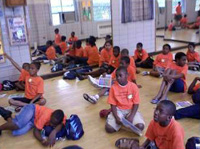 Children in the Superkids Summer Experience learn about nutrition and exercise.


The program for children in grades 2 to 6 is a partnership of HHC, the American Lung Association and the New York City Parks and Recreation Department and targets communities that have a high prevalence of asthma among children.
Omar's mother, Wendy Babb, says he used to be a frequent visitor to the hospital emergency room, but he hasn't been to the ER in months. His condition improved so much that recently, his doctor took him off his asthma medication for a period of time to evaluate how he does.
This year the program started July 6 and was set to run until July 31 but unfortunately was cancelled for the balance of the summer on July 14 by the American Lung Association because of concerns about the contagion threat of the H1N1 flu.
The program began in 2007 with about 25 kids at one site in Harlem. This year it had about 80 children at three sites: Marcus Garvey Park in Harlem, in association with Harlem Hospital; St. John's Recreation Center in Bedford Stuyvesant, Brooklyn, in association with Kings County Hospital; and Hunts Point Recreation Center in the South Bronx, in affiliation with Lincoln Hospital.
The children are taught about air pollution and other general environmental factors, but they are urged to take control of more specific environment triggers where they can have a more immediate impact. Wendy Babb said Omar has learned to cross the street rather than walk behind someone smoking a cigarette, because that triggers his attacks.
The program has received funding from the Robin Hood Foundation, the Merck Foundation and AstraZeneca Pharmaceuticals.
Omar couldn't say whether it was related to his personal experience, but in the fall he will be attending a public school for science and medicine.
"I want to become a doctor when I grow up," he said.
July 2009