News
FOR IMMEDIATE RELEASE
October 15, 2015
NYC Health and Hospitals Hosts Dozens of Free Health Screening Fairs in October With a Focus on Prevention and Fitness
Events Feature Exercise Classes, Diabetes & Weight Management, Cooking Demos and a Raffle for Free Gym Guest Passes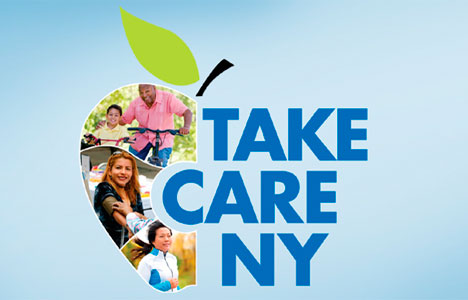 (New York, NY) - New York City Health and Hospitals (HHC) is inviting New Yorkers to take advantage of dozens of free health screening and education events this month as part of its 12th annual "Take Care New York" campaign to improve the overall health of New York City communities. The health system's 11 hospitals and dozens of neighborhood centers will host events in every borough to focus on prevention and fitness. Children and adults can join exercise classes, participate in healthy cooking demonstrations and learn more about weight management and preventing obesity.
NYC Health and Hospitals health fairs will also offer flu shots and a variety of prevention and screening tests for illnesses and chronic diseases affecting the public, including obesity, high blood pressure, depression, asthma, HIV, cancer and more. New Yorkers can dial 311 or visit www.nyc.gov/hhc for a complete list of "Take Care New York" events in their neighborhood. This annual event attracted more than 8,000 New Yorkers last year and many were connected to follow-up care for chronic diseases that were previously undiagnosed.
"We want to empower all New Yorkers, without exception, to take control of their health, adopt healthy eating habits and aim to achieve the best level of fitness possible, " said Dr. Machelle Allen, HHC's Deputy Chief Medical Officer. "Excess body weight puts people at increased risk for diabetes, heart disease, stroke, high blood pressure, arthritis and cancer. Exercise is a very important part of a healthy lifestyle. It's good for the body and has also been proven to reduce stress. And it doesn't take much time or require any special equipment. A few minutes of exercise a day can save your life or the life of someone you love."
NYC Health and Hospitals health services are available to all New Yorkers regardless of immigration status or ability to pay. Those without health insurance will get help on-site to apply for any health insurance plan for which they may qualify or to otherwise access affordable healthcare services at HHC hospitals and clinics. Participants can also learn more about the health system's MetroPlus Health Plan, and what benefits are available under the Affordable Care Act (ACA).
In New York City, over 50 percent of adults and 40 percent of children are overweight or obese. The obesity epidemic strikes hardest in communities already suffering from health and economic disparities, particularly black, Latino and low-income communities where the rate of overweight and obesity reaches 70 percent in some neighborhoods.
NYC Health and Hospitals "Take Care New York" events and locations:
BRONX
Belvis Diagnostic & Treatment Center
545 East 142nd Street
October 16 & 30
11am – 3pm

Lincoln Medical Center
234 East 149th Street
Tuesdays – October 13 & 20
9:00am – 3:00pm

Jacobi Medical Center
1400 Pelham Parkway South
Farmers Market
Tuesdays
11am – 1pm

Atrium
October 19 & 20
10am - 2pm
Morrisania Diagnostic & Treatment Center
1225 Gerard Avenue
Thursdays in October
10am – 2pm

North Central Bronx Hospital
3424 Kossuth Avenue
Farmers Market
Wednesdays in October
11am – 2pm at the Farmers Market

Lobby
Wednesdays in October
10am – 2pm
Lobby
Oct 19 & Oct 20
11am – 2pm
BROOKLYN
Kings County Hospital Center
541 Clarkson Avenue
E-Building Lobby, 1st Floor
Thursdays in October
10:30am – 2:30pm

East New York Diagnostic & Treatment Center
2094 Pitkin Ave
Lobby
October 19 & 26
10am – 2pm
Woodhull Medical Center
760 Broadway
Main Lobby
October 15
12pm- 2pm
October 20
11am – 2pm
Councilman Treyger's Office
445 Neptune Ave
October 15
10:00am – 2:00pm
Councilman Deutsch's Office
2401 Avenue U
October 22
10:00am – 1:00pm
Councilman Colton's Office
155 Kings Highway
October 23 10am – 1pm
MANHATTAN
Bellevue Hospital Center
462 First Avenue (27th Street)
October 15
9am – 1pm
Gouverneur Health
227 Madison Street
October 27 - 29
10am – 2pm
Smith Communicare Center
60 Madison Street
October 21
1pm – 4pm
Harlem Hospital Center
46 West 137th Street
Ronald Brown Building
October 13
10am – 1pm
Esplanade Gardens
129-133 W. 147 Street, Bldg. #3
October 23
12pm - 2:45pm
Metropolitan Hospital Center
1901 First Avenue
October 15 & 29
10am – 2pm
Eddie's Hair Salon
1604 Madison Avenue
October 24
10am - 3pm
Renaissance Health
600 West 168th Street
October 15
11:30am - 3:30pm
Dyckman Health Center
175 Nagle Ave at Dyckman Street
October 15
11:30am – 3:30pm
St. Nicholas Child Health Center
281 West 127th Street
October 22
11:30am - 3:30pm
Drew Hamilton Center
2698 Frederick Douglas Blvd.
October 22
11:30am – 3:30pm
Sydenham Health Center
264 West 118th Street
October 29
11:30am – 3:30pm
QUEENS
Elmhurst Hospital Center
79-01 Broadway (41st Avenue)
H-Building
Elmhurst
Tuesdays
1pm - 4pm
STATEN ISLAND
Sea View Hospital Rehabilitation Center & Home
460 Brille Avenue
Campus Walk
Meet in Lobby
October 16
12:30pm - 1:30pm
Making Strides Against Breast Cancer Luncheon
Lobby
October 23
12pm - 2pm