News
FOR IMMEDIATE RELEASE
October 7, 2015
NYC Health and Hospitals Expands Its MetroPlus Health Plan to Public Employees in Effort to Reach 1 Million Members by 2020
Commercial MetroPlus Gold Insurance Plan is No Cost, No Deductible, Premium Option with Providers at over 27,000 Locations Now Available to Employees of City, CUNY, MTA, Public Libraries
Public Employees Can Choose MetroPlus Gold During October Open Enrollment Period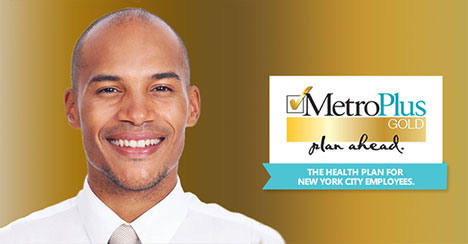 (New York, NY) - New York City Health and Hospitals (HHC) President and CEO Dr. Ram Raju today announced that its MetroPlus Gold no cost, no deductible commercial health plan is now available to all employees of New York City plus other local entities such as CUNY, the MTA and Port Authority. The premium plan had previously only been available to the public health system's employees. The agreement between HHC and the New York City Department of Labor Relations to add MetroPlus Gold as a health insurance option marks an important step in Dr. Raju's plan to reach one million MetroPlus members by the year 2020.
MetroPlus Gold – with no co-pays for most in-network services that includes HHC and private doctors and hospital providers in 27,000 locations — has long been available to HHC employees. Now, nearly 800,000 additional New York City employees, non-Medicare eligible retirees, their spouses or qualified domestic partners and eligible dependents will be able to choose this option starting this month during "Open Enrollment," the only time of year that public employees can change their health insurance provider without a qualifying event such as a birth or marriage.
"Over the past 30 years, MetroPlus – the plan of choice for nearly half a million New Yorkers – has built a reputation for affordable quality healthcare. I am delighted to extend this new option to public employees in our effort to enroll one million New Yorkers by 2020," Dr. Raju said. "The success of MetroPlus is helping our essential health system to reinvest in the services we provide. It is allowing us to remain true to our mission of caring for all New Yorkers and keeping communities healthy."
"Government and other public employees seeking a low-cost health insurance plan with premium service, a large network and top quality rankings now have another health insurance option," said MetroPlus Chief Operating Officer Seth Diamond. "Even employees who haven't changed health insurance in years should look into the alternative we offer and our consistent record of keeping customers healthy and happy."
"I've been a MetroPlus Gold member since 1991. I like the one stop shopping and the follow-up that the plan provides," said Willette Slocumb, a Coordinating Manager at Lincoln Hospital in the Bronx and a member of CWA Local 1180. "It's like they spearhead your health care. They tell you everything you need to do in terms of preventive care. Last year I had forgotten to get a mammogram and they made sure I did. Everything is in plain, simple language that you can understand."
MetroPlus Health Plan has nearly half a million customers and its commercial plans are among the most popular and most affordable on the state's online health exchange. MetroPlus has also ranked as the top managed care plan in New York City in quality and patient satisfaction for seven of the last ten years in the consumer's guide issued annually by the New York State Department of Health.
MetroPlus representatives will participate in benefit fairs that agencies are hosting through the month of October. An advertising campaign will also accompany the new MetroPlus Gold expansion, focusing on government-themed publications and websites.
MetroPlus Gold benefits include:
A comprehensive benefits package for children and adults, including well-child care, primary care, maternity care, specialty services, hospital care, emergency care, mental health services, lab and radiology services.
An extensive provider and hospital network with over 13,000 physicians in over 27,000 locations including private offices, neighborhood family care sites and at hospitals. The MetroPlus network includes over 20 hospitals in New York City.
A focus on prevention and care management with programs designed to pro-actively address the specific needs of New Yorkers with diabetes, asthma and HIV; pregnant women; and mental health or complex medical or transplant issues.
No-cost, no deductible, option available in the basic plan for employees and their dependents.
No co-pays for lab, X-rays and specialists, and limited co-pays for most in-network services.
No paperwork – There are no bills or claims forms for in-network services.
Member support available 24/7 in numerous languages and dialects.
For more information employees can visit http://www.metroplus.org/gold or contact their benefits manager, or call MetroPlus Gold customer service at 877-475-3795, Monday through Saturday, 8:00 AM to 8:00 PM.