News
FOR IMMEDIATE RELEASE
June 12, 2015
Lincoln Medical Center Receives National Recognition for Excellence in Stroke Care
Recognition Acknowledges Implementation of the Highest Quality Stroke Care
Designed to Save Lives, Reduce Disability and Improve the Lives of Stroke Patients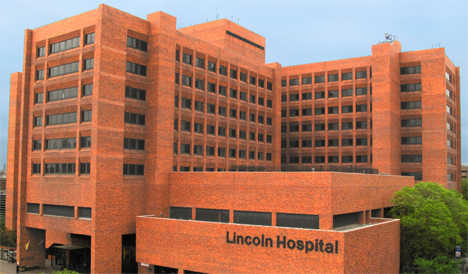 (Bronx, New York) Milton Nuñez, Executive Director of the New York City Health and Hospitals Corporation (HHC) Lincoln Medical Center, announced today that HHC Lincoln has received from the American Heart Association/American Stroke Association (AHA/ASA) the "Get With the Guidelines - Stroke Gold Plus Award" as well as the "Get With The Guidelines® - Target: Stroke Honor Roll - Elite Plus Quality Achievement Award," for the successful implementation of higher standards of stroke care, aimed at reducing death and disability, and improving the lives of stroke patients.
"When a patient comes through our doors in a critical situation, they trust us to provide the right care, at the right time," said Milton Nuñez. "As a New York State designated Stroke Center, Lincoln Medical Center continues to achieve a high level of quality performance, implementing life-prolonging treatments, and ensuring that the care we provide to stroke patients is aligned with the latest scientific guidelines."
HHC Lincoln earned the "Stroke Gold Plus Award" for achieving 85% or higher compliance for two consecutive years with all seven of the Association's stroke achievement measures, including aggressive guidelines for the use of certain medications, and encouraging patients to enroll in Smoking Cessation and other secondary stroke prevention programs to improve patient outcomes.
To achieve the "Target: Stroke Honor Roll - Elite Plus Award," hospitals must meet quality measures developed to reduce the time between the patient's arrival at the hospital and treatment with the blood clot-busting medications approved by the U.S. Food and Drug Administration to treat ischemic stroke. If given intravenously in the first three hours after the start of stroke symptoms, the medication, tPA, has been shown to significantly reduce the effects of stroke and lessen the chance of permanent disability.
"Our receipt of this important Gold Plus status and our inclusion in the Honor Roll-Elite Plus is a testament to the great care provided at Lincoln Medical Center," said Anita Soni, MD, Chief Medical Officer. "I am proud of our world-class medical team whom work tirelessly to ensure that stroke patients receive the most appropriate and evidenced-based treatment. The patients in our community deserve the absolute best in healthcare and we work toward this goal daily."
"The Gold Plus is a top award given to select hospitals in each state and would not have been possible without the support and hard work from multiple disciplines and departments," said Riyad Basir, MD, FCCP, Chief of Pulmonary and Critical Care, Director of Stroke Center. "This is one of the finest examples of collaboration amongst interdisciplinary teams. With a stroke, time lost is brain lost, and this award demonstrates our commitment to quality and patient-centered care."