News
FOR IMMEDIATE RELEASE
June 12, 2015
HHC Harlem Hospital Center Receives National Recognition for Excellence in Stroke Care
Awards from American Heart Association/American Stroke Association demonstrate commitment to quality care for stroke patients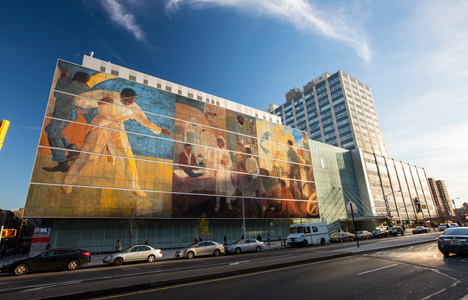 (New York, NY) Denise C. Soares, Senior Vice President Generations+/Northern Manhattan Health Network and Executive Director of the New York City Health and Hospitals Corporation (HHC) Harlem Hospital Center, announced today the hospital has received the American Heart Association/American Stroke Association's "Get With the Guidelines—Stroke Silver Plus Award." The hospital also received the AHA/ASA's "Get With The Guidelines®–Target: Stroke Honor Roll" award, highlighting success in ensuring stroke patients receive the most appropriate treatment according to nationally recognized, research-based guidelines based on the latest scientific evidence.
"The recognition of being on the American Heart Association/American Stroke Association's Honor Roll celebrates the extraordinary care Harlem Hospital Center provides to our patients," said Ms. Soares. "The Village of Harlem has historically been a medically underserved community and we are proud to continuously provide life-saving comprehensive stroke care to our patients."
To receive the Silver Plus Quality Achievement Award, hospitals must achieve 85 percent or higher adherence to all Get With The Guidelines achievement indicators for at least 12 consecutive months, and, during the same period, achieve 75 percent or higher compliance with five of eight Get With The Guidelines quality measures.
To achieve the "Target: Stroke Honor Roll," hospitals must meet quality measures developed to reduce the time between the patient's arrival at the hospital and treatment with the blood clot-busting medications approved by the U.S. Food and Drug Administration to treat ischemic stroke. If given intravenously in the first three hours after the start of stroke symptoms, the medication, tPA, has been shown to significantly reduce the effects of stroke and lessen the chance of permanent disability.
These quality measures are designed to help hospital teams provide the most up-to-date, evidence-based guidelines with the goal of speeding recovery and reducing death and disability for stroke patients. Guidelines include aggressive use of medications such as clot-busting and anti-clotting drugs, and blood thinners. In addition, the guidelines promote prompt and effective use of cholesterol-reducing drugs, preventive action for deep vein thrombosis (DVT), and smoking cessation counseling. Stroke centers proactively manage other stroke risks such as hypertension and diabetes.
"With a stroke, time lost is brain lost, and this award demonstrates our commitment to ensuring patients receive care based on nationally-respected clinical guidelines," said Dennis Greenbaum, MD, Chief of Medicine. "Harlem Hospital Center is dedicated to improving the quality of stroke care and the American Heart Association/American Stroke Association's Get With The Guidelines-Stroke helps us achieve that goal."
"Harlem Hospital Center has been a designated primary stroke center since 2007 and has developed a multi-disciplinary stroke team to quickly assess our stroke patients in the emergency room and decide if they are candidates for thrombolytic therapy," said Anne Kleiman, D.O., Chief of Neurology. "We have complied with the guidelines set by the Department of Health and get assessed annually on our progress. This year we are proud to be award recipients as a designated stroke center for a Silver Plus award 2015. We have done an excellent job in achieving completion of the many clinical measures assessed in stroke care and look forward to providing this care for many more years to come."
"We are pleased to recognize Harlem Hospital Center for their commitment to stroke care," said Deepak L. Bhatt, M.D., M.P.H., national chairman of the Get With The Guidelines steering committee and Executive Director of Interventional Cardiovascular Programs at Brigham and Women's Hospital and Professor of Medicine at Harvard Medical School. "Studies have shown that hospitals that consistently follow Get With The Guidelines quality improvement measures can reduce length of stay and 30-day readmission rates and reduce disparities in care."