News
FOR IMMEDIATE RELEASE
May 11, 2015
HHC Raises Breast Cancer Awareness with Events in Brooklyn
Reminder that prevention, screening, and early detection are critical; schedule a mammogram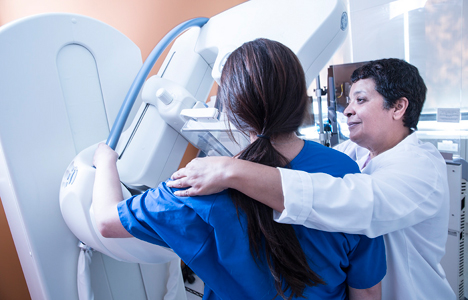 (Brooklyn, NY - May 11, 2015) New York City Health and Hospitals Corporation (HHC) Woodhull Medical Center will host a breast health education event on May12 from 12pm – 2pm, to emphasize to women in Brooklyn that prevention, screening, and early detection are the best defenses against breast cancer. Patients can also schedule an appointment for a mammogram. It is recommended that women 40 and over schedule a mammogram every one to two years. A complete list of events throughout the City are available on HHC's website (mammograms are available at HHC facilities year round).
"It has been HHC's mission and goal to help all New Yorkers live the healthiest life possible and we have been at the forefront of providing preventive health screenings in New York City," said HHC President Dr. Ram Raju. "A mammography saves lives and we encourage people to make use of this opportunity to get screened."
In 2014, HHC hospitals and health centers performed more than 103,000 mammograms throughout New York City. Patients interested in scheduling a mammogram are encouraged to call 311 to identify the HHC facility most convenient to them, where confidential, affordable mammograms can be performed for all New Yorkers.
"Advances in treatment and earlier detection make the survival rate for breast cancer well over 90 percent," said Margaret Kemeny, MD, Director, Queens Cancer Center, HHC Queens Hospital Center. "It is my hope that women are encouraged by this and take proactive steps starting at age 40 to get screened every one to two years to fight against this disease."
HHC's health insurance plan, MetroPlus, is supporting breast health and screenings throughout May by urging its staff and the community to take proactive steps to know their health status. MetroPlus Health Plan is one of the New York area's largest providers of government-sponsored health insurance and is the plan of choice for 445,000 New Yorkers.
Brooklyn
Woodhull Medical Center
Dolores E. Jackson Auditorium - 3rd Floor
May 12