News
FOR IMMEDIATE RELEASE
November 8, 2013
NCBH Opens State-of-the-Art Psychiatric Emergency Room
Expanded $2.4 Million Facility Will Serve Even More Bronx Residents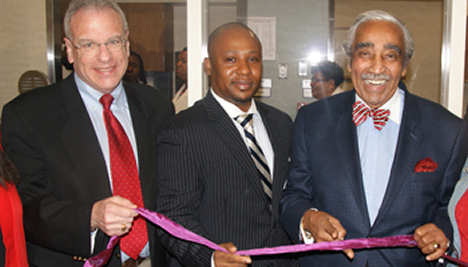 Bronx, New York ― After three years of planning and months of construction, ealthcare professionals, elected officials and community leaders joined together on November 6, at North Central Bronx Hospital (NCBH) for a ribbon-cutting ceremony to launch the hospital's renovated and greatly expanded Psychiatric Emergency Room. The ceremony celebrated the $2.4 million investment made by the New York Health and Hospitals Corporation (HHC) to provide quality mental health resources for Bronx residents.
The U.S. Department of Health and Human Services estimates that nearly five percent of all New York State residents suffer from a serious mental illness. Each year, over 500,000 receive care statewide. The most serious cases are life-threatening conditions requiring emergency psychiatric intervention typically provided by a psychiatric emergency room like the one at NCBH. Last year alone, NCBH's original Psychiatric Emergency Room evaluated nearly 3,400 patients. The original facility will continue to operate 24 hours a day, seven days a week, providing treatment to all those in need including children, adult and geriatric patients.
The new emergency room nearly triples the clinical space used for psychiatric services, from 1430 square feet to 3600 square feet. Clinical providers estimate this could lead to a 10 percent + increase in patient volume, as additional examination and intake rooms allow patients to be promptly seen by psychiatrists, nurses, psychologists, social workers and other medical professionals. Once patients are assessed and stabilized, they are either admitted for inpatient services or provided with outpatient resources.
"Our new Psychiatric Emergency Room provides the excellent care NCBH is known for, now in a brand-new, state-of-the-art setting," said Executive Director Bill Walsh. "We are thrilled to have the opportunity to provide these needed services to all Bronx residents."
Added Chief Operating Officer Sheldon P. McLeod, "The new Psychiatric Emergency Room is a substantial commitment to the Bronx communities we serve, including the Norwood neighborhood where we are located. This construction and renovation provides strong confirmation that we will be providing needed mental health care in the Northwest Bronx for years to come."