Medical Department
Chronic Pulmonary Care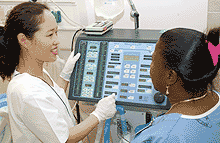 Coler

Goldwater is dedicated to improving patient/resident quality of life by making every effort to successfully wean patients/residents of their ventilator-dependence. To achieve this we work consistently to improve our overall comprehensive care program. For example, using hi-tech portable ventilators, many patients/residents have the opportunity to live life more fully.
In our ventilator units, our patients/residents receive state-of-the-art treatment with round-the-clock availability of qualified respiratory care practitioners. The team providing care includes pulmonary and critical care specialists in addition to other physician staff. Specially monitored beds are utilized when urgent care needs arise. With meticulous attention to their physiological, medical and nutritional status, all patients receive a weaning assessment.
Through our years of experience with ventilator-dependent patients/residents, Coler

Goldwater has developed and instituted a highly successful ventilator-weaning program. Indeed, our program has established itself as a #1 national leader in ventilator weaning. This is just one example of our high quality patient care.
Medical Department:
Medical/Diagnostic Services • Geriatric Care • Skilled Nursing Care
Cardiac Rehabilitation • Chronic Pulmonary Care • Wound Care
HIV/AIDS Care Program • Pediatric/Adolescent Care • Consultative Services
Departments:
Admissions • Medical Department • Food and Nutrition
Rehabilitation Medicine • Pathology/Clinical Laboratory • Pharmacy
Psychiatric • Speech Pathology and Audiology