Medical Department
Skilled Nursing Care
Long-term care requires dedicated staff members who can go the extra mile. Every day, the outstanding professionalism of every team member can be seen in our nursing facility.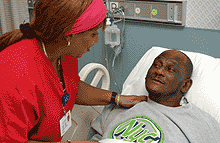 A full-time primary care physician coordinates overall medical care of patients/residents. The physician, along with the interdisciplinary team, work to develop a comprehensive individual treatment plan for each resident. On-site physicians are available 24 hours a day, 7 days a week.

Medical Department:
Medical/Diagnostic Services • Geriatric Care • Skilled Nursing Care
Cardiac Rehabilitation • Chronic Pulmonary Care • Wound Care
HIV/AIDS Care Program • Pediatric/Adolescent Care • Consultative Services
Departments:
Admissions • Medical Department • Food and Nutrition
Rehabilitation Medicine • Pathology/Clinical Laboratory • Pharmacy
Psychiatric • Speech Pathology and Audiology