Medical Department
HIV/AIDS Care Program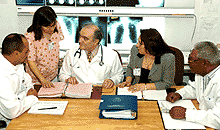 Our HIV/AIDS service provides the medical care, counseling and support for extended quality of life for persons diagnosed with AIDS.
As an early provider of healthcare services to HIV and AIDS patients, Coler

Goldwater's history of compassionate, professional medical care is vital and to the special needs of HIV/AIDS patients/residents. Infectious disease specialists, internists, nutritionists, nurses and counselors, supported by a complete rehabilitation services department, combine their expertise to create a uniquely supportive medical environment in which to treat HIV/AIDS patients/residents.
This multi-disciplinary approach to care planning allows us to individualize our care and ensure that a patient's medical, dietary, social and emotional needs are taken into consideration. These efforts, combined with a comprehensive assessment of a patient's HIV/AIDS stage, and the use of the most current therapeutic options available, define our approach to getting patients back into the community following acute hospital stays.
Medical Department:
Medical/Diagnostic Services • Geriatric Care • Skilled Nursing Care
Cardiac Rehabilitation • Chronic Pulmonary Care • Wound Care
HIV/AIDS Care Program • Pediatric/Adolescent Care • Consultative Services
Departments:
Admissions • Medical Department • Food and Nutrition
Rehabilitation Medicine • Pathology/Clinical Laboratory • Pharmacy
Psychiatric • Speech Pathology and Audiology