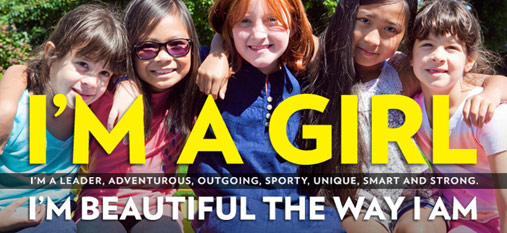 This fall, New York City becomes the first city in the nation to tackle the issue of girls' self-esteem and body image. Recognizing that girls as young as 6 and 7 are struggling with body image and self-esteem, (over 80% of 10-year-old girls are afraid of being fat and by middle school, 40-70% of girls are dissatisfied with two or more parts of their body), New York City is launching a self-esteem initiative to help girls believe their value comes from their character, skills, and attributes – not appearance.

The multi-agency, multi-faceted project includes:

A public education campaign geared toward girls ages 7-12 appearing on buses, subways, and phone kiosks and featuring a diverse group of girls performing activities like reading, playing sports, and drawing with the words: "I'm a girl. I'm smart, a leader, adventurous, friendly, funny. I'm beautiful the way I am."

A girls' self-esteem curriculum, "Full of Ourselves: A Wellness Program to Advance Girl Power, Health, and Leadership." Emphasizing girls' personal power and overall mental and physical well-being, this eight-session program designed for girls 10-15 years old is the first of its kind to show sustained, positive changes in girls' body image, body satisfaction, and body esteem. The City piloted it in two Summer Quest summer school programs this summer – to positive feedback – and this fall we will expand it in up to 200 after-school programs. If you are interested in providing the curriculum in your school or after-school program, please contact youthconnect@dycd.nyc.gov.

As part of this initiative, in partnership with the City and SPARK Movement, The Paley Center for Media has developed two new class offerings for its K-12 education program. "Girls, Body Image, and the Media" helps students look critically at television programs targeting girls that send messages, both positive and negative, about body image and ideas of beauty. "A Brief History of Girls on Television" traces the evolution of the representation of girls on television, from the 1950s to the present. As with all Paley Center curricula, the classes are offered on-site for New York City-area school groups.

Paley Center educators have assembled a decade-by-decade visual history of the changing portrayal of girls on television –unique resource created by this collaboration. Clips from this compilation will be utilized in the classes as a catalyst for discussion and will be made available at paleycenter.org.

Questions and Answers:
Why use the word beautiful at all? Aren't you trying to help girls believe that appearance isn't important?
We are trying to help girls believe that their appearance doesn't define them – and to expand the definition of beauty. Only two percent of women describe themselves as beautiful, 40-70 percent of girls dislike two or more body parts and 60 percent compare themselves to fashion models. We think it's important that girls stop comparing themselves to a manufactured idea of beauty – an often air-brushed, photo-shopped one at that – and embrace their own inner and external beauty.
You say self-esteem decreases at 12; why not target teens?

Girls as young as 7 and 8 are starting to dietand find fault with their bodies. The Project reaches out to young girls to make sure that, as they began confronting the messages the media and society sent, they were also surrounded by positive messages and representations of girls who looked them! While the campaign features younger girls, hopefully older girls and parents will respond to the positive message as well.

Additionally, the curriculum will reach slightly older girls and help amplify the message.
But isn't the City concerned about obesity? Is this campaign sending a conflicting message?

More than 20 percent of kids in New York City are obese and its health implications, like diabetes and heart disease, are severe. But the way to promote a healthy weight is through exercise and healthy eating, not by making kids feel bad about their bodies – and certainly not by encouraging them to aspire toward an unattainable, or unhealthy, "ideal."
Studies show that stigmatizing kids who are overweight results in weight gain and that, somewhat unexpectedly, dieting and body obsession also results in overweight and obesity.

This campaign – and the corresponding curriculum – showcases girls of different sizes and shapes participating in activities they enjoy, highlights words like "athletic, healthy, confident, strong" and promotes exercise and healthy eating, in addition to positive body image and strong self-esteem.
Interested in volunteering? Click here for related opportunities: http://www.nycservice.org/initiatives/26