In 2007, 17 of New York City's universities accepted the NYC Carbon Challenge, taking on a leadership role in the effort to address global climate change. These universities have paved the way for others by exploring a variety of opportunities to reduce their energy use through energy efficiency and converting to cleaner energy sources. All together, the participating universities have achieved a 17 percent reduction in carbon emissions per square foot since 2007, saving millions of dollars. In addition, five universities have already met the 30 percent goal.
Current participants
Barnard College*
Berkeley College
City University of New York
Columbia University
The Cooper Union for the Advancement of Science and Art
Fashion Institute of Technology*
Fordham University
The New School
New York School of Interior Design

New York University*
Pace University
Polytechnic Institute of New York University
Pratt Institute
The Rockefeller University
School of Visual Arts*
St. John's University
Weill Cornell Medicine
*Universities committed to the 50 percent reduction goal by 2025
Find out about more details of the program in the NYC Carbon Challenge for Universities Program Design. For additional information about participation, please contact CarbonChallenge@cityhall.nyc.gov.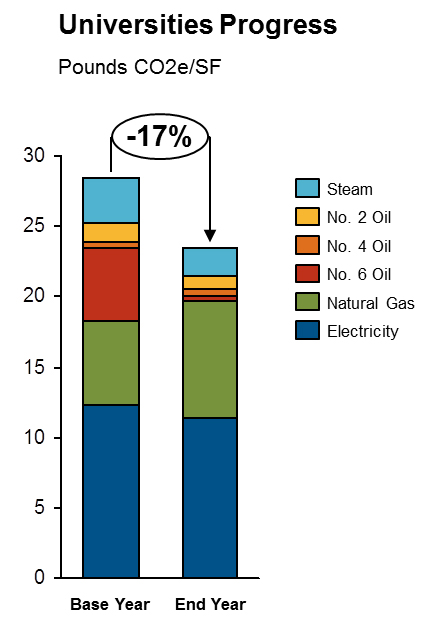 Learn how five universities met the 30 percent reduction goal:
Weill Cornell Medical College
Tools for Universities
Want to reduce energy use and emissions from your own school? Use these tools to get started!
Learn more
Contact