New York City, in partnership with the New York State Research and Development Authority (NYSERDA), most recently expanded the Carbon Challenge to include multifamily buildings. The City is partnering with leading property management firms that have committed to reduce greenhouse gas emissions from a portfolio of their multifamily residential buildings by 30% in ten years. The residential sector accounts for 37%of New York City's total emissions, making up the largest single source of emissions in the city. To date, 17 of the largest residential property management firms in the city have accepted to the Carbon Challenge, and are now in the process of signing up the individual multifamily buildings that they manage.
Current Participants
AKAM Associates, Inc.
Century Property Management
Charles H. Greenthal
Management Corp.
Douglas Elliman
Property Management
FirstService Residential
Harlem Congregations for
Community Improvement, Inc.
Lott Community Development Corporation

Marion Scott Real Estate, Inc.
Metropolitan Pacific Properties
Midboro Management
Milford Management
New Holland Residences
Prestige Management
Rose Associates
RY Management Co., Inc.
Solstice Residential
Urban American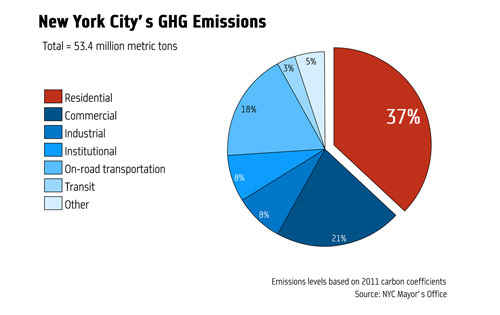 View Larger
If you are a resident of a co-op, condo, or rental building that is interested in participating in the Carbon Challenge, please contact your property manager directly or email CarbonChallenge@cityhall.nyc.gov for more information.

Press and Announcements
Mayor Bloomberg, Deputy Mayor Holloway and Office of Long Term Planning and Sustainability Director Sergej Mahnovski announce significant reduction in greenhouse gas emissions and new and expanded programs to continue the progress

Tools for Multifamily Buildings
The NYC Carbon Challenge Handbook for Co-Ops and Condos
The NYC Carbon Challenge Handbook for Co-Ops and Condos is a tool for co-op and condo residents to learn how to begin reducing their building's energy use and GHG emissions. The handbook covers the basics of energy efficiency in multifamily residential buildings, the cash incentives and financing available in New York City, and the relevant local laws and regulations aimed at helping the city's buildings become more efficient.
Learn more