About the Challenge
With PlaNYC, New York City set an ambitious goal to reduce citywide greenhouse gas (GHG) emissions 30% by the year 2030, but we know we can't achieve that goal without the help of partners from the private sector. Since 2007, 17 of New York City's leading universities, the 11 largest hospital organizations, 12 global companies, and 16 residential management firms have accepted the Carbon Challenge, pledging to match City government's 30X17 goal and reduce building-based emissions by 30% or more in just ten years. In addition, 40 Broadway theatres are engaged in a range of sustainability projects through the Broadway Green Alliance.
Progress
The Carbon Challenge participants have moved aggressively in just a few years to cut their energy use and emissions. In fact, six universities and hospitals have already met the Challenge goal. All together, participants have cut annual emissions by 148,842 metric tons of carbon, and are collectively saving at least $60 million annually in lower energy costs. By the end of the program, current participants are projected to reduce citywide emissions by nearly 600,000 metric tons of carbon dioxide equivalent, more than 1% of citywide emissions.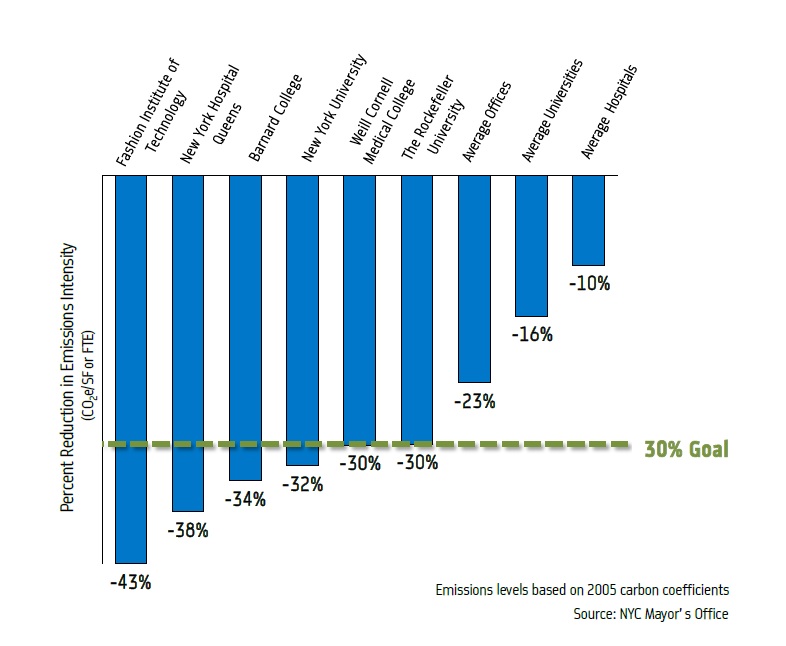 The Carbon Challenge works by inspiring a high-level commitment within organizations, creating a platform for the exchange of information and ideas, and providing simple tools to track progress along the way. As they explore new ideas and opportunities to meet the Challenge goal, participants will also reveal effective strategies for energy efficiency that can be scaled up across New York City and beyond.

Learn how these six early achievers achieved the 30% goal:
Weill Cornell Medical College
The NYC Carbon Challenge Handbook for Co-Ops and Condos

The NYC Carbon Challenge Handbook for Co-Ops and Condos is a tool for co-op and condo residents to learn how to begin reducing their building's energy use and GHG emissions. The handbook covers the basics of energy efficiency in multifamily residential buildings, the cash incentives and financing available in New York City, and the relevant local laws and regulations aimed at helping the city's buildings become more efficient.

The NYC Carbon Challenge Progress Report

The NYC Carbon Challenge Progress Report, released in April 2013, details the progress of universities and hospitals since 2007 and highlights the five participants that met the Challenge goal by 2011. Building on the success of these participants, the report defines opportunities to enhance existing partnerships and expand the Challenge to new sectors as a strategy to increase the efficiency of some of New York City's largest buildings.
Learn more

Contact
CarbonChallenge@cityhall.nyc.gov