JetBlue accepted the NYC Carbon Challenge in 2013, committing to reduce its greenhouse gas emissions intensity by 30% from 2011 levels. To date, JetBlue had dramatically reduced their greenhouse gas emissions intensity by achieving more than an 80% reduction. JetBlue met its 30% goal by consolidating its office space into its new energy efficient Long Island City Support Center in Queens, New York.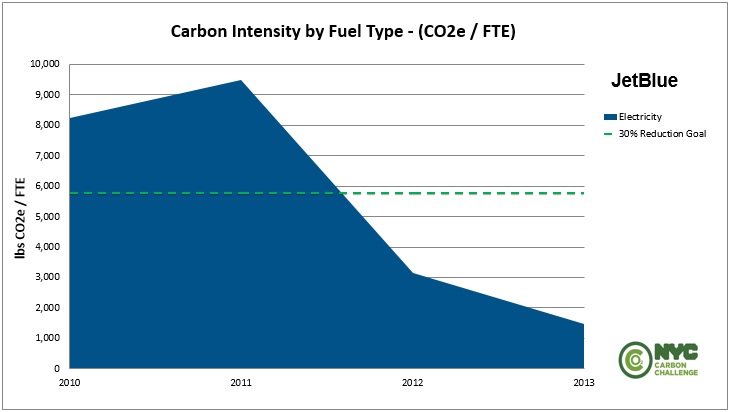 Highlight: Fit-Out of New Long Island City Office Space
In 2012, JetBlue moved its offices into its new Long Island City Support Center, housed in the historic Brewster Building at the foot of the Queensboro/59th Street Bridge in Queens, New York. Throughout the demolition and renovation period, JetBlue sought to make the new office space as efficient and sustainable as possible. The office's open floor plan lets in abundant natural light to reduce energy demand required for lighting. The floor layout is complemented by the installation of motion-sensitive lighting fixtures, which automatically turn off lights when not in use. These design elements have allowed JetBlue to reduce lighting power usage to just over 1 watt per square foot. The building contains ENERGY STAR-certified appliances and uses HVAC technology equipped with high-efficiency motors and economizers and central monitoring systems.

"At JetBlue we understand that natural resources and a healthy environment are essential to keep our business running smoothly. We are constantly focused on improving the efficiency of our operations in the air, and extend this same mindset to our work on the ground. The NYC Carbon Challenge has been instrumental in helping us track and manage our office energy use in our hometown NYC."
—Sophia Mendelsohn, Head of Sustainability, JetBlue

Learn more about JetBlue's sustainability initiatives here.