In 2013, New York City launched the NYC Carbon Challenge for Commercial Offices. Commercial buildings account for 21 percent of New York City's emissions, and the energy used in interior offices and leased spaces accounts for between 40-60 percent of end use in a typical commercial office building. The participating companies are focusing on using energy more efficiently in their interior office spaces and leased spaces through innovative strategies such as IT efficiency, lighting controls, and space layout optimization. All together, these 12 companies have reduced their New York City-based GHG emissions from their respective base years by more than 50,000 metric tons of carbon dioxide equivalent.
Current participants
American International Group
BlackRock
Bloomberg LP*
Credit Suisse
Deutsche Bank*
Etsy*

Google*
Goldman Sachs
JetBlue
JP Morgan Chase
Kirkland & Ellis, LLP
PVH Corp.
*Commercial offices committed to the 50 percent reduction goal by 2025 or sooner
Find out about more details of the program in the NYC Carbon Challenge for Commercial Offices Program Design. For additional information about participation, please contact CarbonChallenge@cityhall.nyc.gov.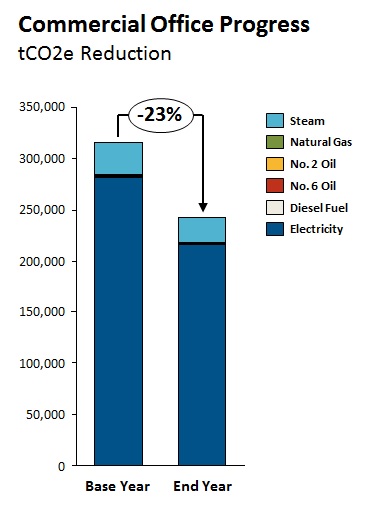 Learn how four commerical offices have already met the Carbon Challenge goal:
External Press
Tools for Commercial Offices
Your office can reduce its energy use and emissions too. Use these tools to get started!
Learn more
Contact