Volunteer for "Garden In Transit"



Be a part of NYC taxi history!
Garden in Transit is a public art project that will be displayed on New York City's yellow taxicabs in the Fall of 2007. This privately-funded project will celebrate the 100th anniversary of New York's first traditional metered taxicab as part of TAXI '07, an initiative led by the Taxi and Limousine Commission and the Design Trust for Public Space.
As part of this groundbreaking motivational art, education, and creative therapy project, over 23,000 children and adults from schools, hospitals, and community programs across NYC have painted vibrant flowers on adhesive weatherproof panels that, with YOUR help, will be applied to the hoods, trunks and/or roofs of thousands of taxis this fall.
SIGN-UP NOW to volunteer anytime throughout the month of September and help visually transform NYC, as the ubiquitous yellow icon becomes a mobile artistic canvas or -- "Garden in Transit."
Sign up as an individual or with a group
(Hours are flexible. Volunteers must be 18 years or older)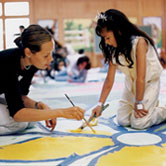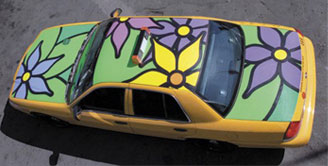 The Project is created and organized by Portraits of Hope, a non-profit arts, education and creative therapy program emphasizing hands-on civic engagement opportunities for the broader public. Portraits of Hope works to brighten and enrich the lives of children and adults through their participation in creative, high-profile, one-of-a-kind projects encouraging self-esteem and accomplishment; hope and pride.
For more information, please call 212.216.9441 or visit www.portraitsofhope.org