Connections To Care (Center for Economic Opportunity and Department of Healthy and Mental Hygiene)

On July 30, 2015, the Mayor's Fund to Advance New York City and the Corporation for National and Community Service announced a $30 million public-private partnership to advance New York City's vision of transforming the delivery of mental health care services. This partnership will support the implementation of Connections to Care, a new program to expand access by integrating evidence-based mental health services into other programs that are already providing services to communities in need – in collaboration with the Center for Economic Opportunity and the Department of Health and Mental Hygiene.
Learn more about Connections to Care.
Green Carts (Department of Health and Mental Hygiene and Office of the Food Policy Coordinator)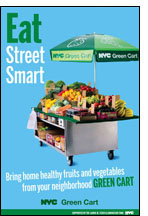 The City is committed to expanding the number of green carts providing fresh, high-quality produce in targeted areas throughout New York City. Green Carts, now in its fourth year, aims to increase access to fresh fruits and vegetables in an effort to help prevent diseases including diabetes, heart disease, cancer, high blood pressure, and other illnesses. New York City made available 1,000 green cart permits: 350 permits for Brooklyn, 350 for the Bronx, 150 for Manhattan, 100 for Queens, and 50 for Staten Island. As of 2012, many Green Carts now have Electronic Benefit Transfer machines that can process food stamps, now known as SNAP benefits. The Mayor's Fund directed private support to marketing and promotion of the green carts in the communities in which they operate, as well as to providing low-interest loans and food distribution assistance to vendors.

For more information on NYC Green Carts, visit the Department of Health and Mental Hygiene website.