Social Innovation Fund (Center for Economic Opportunity)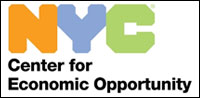 In 2010, the Mayor's Center for Economic Opportunity (CEO) and the Mayor's Fund to Advance NYC received a $5.7 million Social Innovation Fund (SIF) federal grant from the Corporation for National and Community Service. This grant is supporting the replication of five of CEO's most promising anti-poverty programs in New York City and seven partner cities: Kansas City, MO; Memphis, TN; northeast Ohio; Newark, NJ; San Antonio, TX; Savannah, GA; and Tulsa, OK.
The SIF programs being piloted are:
Jobs-Plus, a site-based employment initiative for public housing residents;
Family Rewards, a conditional cash transfer program to reduce current and future poverty;
SaveUSA, a savings program linked to the Earned Income Tax Credit;
Project Rise, a cohort-based initiative that provides opportunities to disconnected youth;
WorkAdvance, a sector-focused training and advancement program for low-wage workers.
The Mayor's Fund continues to seek private support for this innovative national effort. For more information on the SIF programs, please visit the
Center for Economic Opportunity's website
.


$aveNYC/SaveUSA (Department of Consumer Affairs and Center for Economic Opportunity)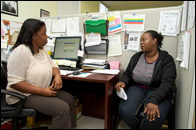 In an effort to explore strategies to help low-income families build savings for asset development and emergency needs, the Department of Consumer Affairs' Office of Financial Empowerment piloted a matched savings incentive program during the 2008 tax season. The initiative, $aveNYC, was targeted towards Earned Income Tax Credit (EITC) recipients at select Volunteer Income Tax Assistance (VITA) sites who committed to holding at least part of their refund in a designated account for at least one year. Research on the first year cohort resulted in improved participation rates and expanded implementation of the program in 2009 to all tax filers at select VITA sites.

Through the Center for Economic Opportunity and Social Innovation Fund, $aveNYC is now being replicated nationally as SaveUSA in New York City; Newark, NJ; Tulsa, OK and San Antonio, TX.

Learn more about $aveNYC/SaveUSA at the New York City Office of Financial Empowerment's website.




Opportunity NYC (Center for Economic Opportunity)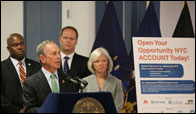 The nation's first conditional cash transfer (CCT) program, Opportunity NYC, is an evidence-based strategy for reducing poverty in New York City. Officially launched in September 2007, the initiative provides financial incentives to low-income families to improve education, health and workforce outcomes and consists of three separate pilot programs for children, adults, and families.

Implemented by the City of New York, in collaboration with non-profit partners MDRC and Seedco, the Opportunity NYC Family Rewards program includes a sample of approximately 5,000 families in Central and East Harlem in Manhattan, Brownsville and East New York in Brooklyn, and Morris Heights/Mount Hope and East Tremont/Belmont in the Bronx. Two other pilots, the adult-focused Work Rewards program and the child-focused SPARK program, are being implemented in many neighborhoods across the City. Unlike conventional approaches to poverty reduction which focus on social services to create a safety net for those in need, incentive-based strategies increase participation in targeted activities and programs that decrease factors contributing to poverty and long-term dependency. Monetary incentives are being awarded when households meet specific targets.

Opportunity NYC represents a ground-breaking and inventive approach to poverty reduction and a national model for anti-poverty policy. The initiative will be rigorously evaluated to determine the impact of incentive-based strategies on child, youth, and family outcomes as well as on overall poverty reduction. Evaluation results will help determine whether these strategies are a cost-effective approach to reducing poverty in NYC, and will serve to inform future policy decisions. Over $62 million is being raised entirely through private donations from foundations, corporations, and individuals.
Learn more by visiting the
Center for Economic Opportunity's website
.


Workforce1 Veterans Career Center (Department of Small Business Services)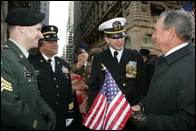 In July 2012, the Department of Small Business Services opened a dedicated Workforce1 Veterans Career Center. This public-private partnership offers intensive career services, with veterans on staff to provide expertise specific to the veteran community, such as how to position and translate military experience for the civilian workforce. Center staff maintains relationships with veteran-serving organizations and with employers committed to hiring veterans. The City also provides priority job placement services for veterans at all Workforce1 Centers throughout the five boroughs.

Learn more on the Workforce1 website.