MillionTreesNYC (Department of Parks & Recreation)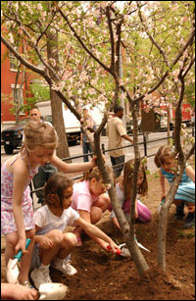 As part of PlaNYC initiatives, the New York City Department of Parks & Recreation and New York Restoration Project (NYRP) developed MillionTreesNYC, a citywide initiative to plant one million new trees in New York City's public and private spaces over the next ten years. Launched in October 2007 in collaboration with community, non-profit, government and corporate partners, MillionTreesNYC supports a robust stewardship program to sustain the long-term health of NYC's urban forest, as well as systematically catalog tree plantings and their care. Other core elements of the MillionTreesNYC initiative include community outreach, public education and advocacy. MillionTreesNYC also introduces individual home-owners, building owners and management, and residential and commercial developers to a land manager education program that promotes the health, environmental and economic benefits associated with planting and maintaining trees.

Learn more on MillionTreesNYC's website.


NYC °CoolRoofs (Office of the Mayor)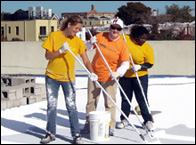 Launched in September 2009, NYC °CoolRoofs is a collaborative effort between the NYC Department of Buildings, NYC Service and nonprofit partner Community Environmental Center aimed at promoting and facilitating the cooling of New York City's rooftops. To "cool" rooftops, a reflective white coating is applied to the surface of the roof, which decreases the amount of energy absorbed by the roof. This lowers the building's temperature, and subsequently reduces energy use, cooling costs and carbon emissions. This initiative began as a pilot program in Long Island City, Queens – where rooftop temperatures were recorded significantly higher than the city average. Whether you are interested in purchasing coating material, making a monetary contribution or volunteering to help coat rooftops, your support will be instrumental in helping make NYC even cooler!

To learn more, visit NYC °CoolRoofs' website.