Free Harlem WiFi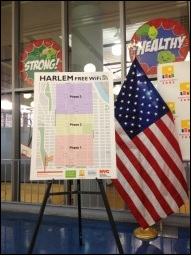 The Mayor's Fund is partnering with the New York City Department of Information Technology and Telecommunications on a new outdoor public WiFi network in Harlem accessible at no cost to all users. The Harlem WiFi network will extend 95 city blocks, from 110th to 138th Streets between Frederick Douglass Boulevard and Madison Avenue, making it the largest continuous free outdoor public wireless network in the nation. The network, which will be rolled out in three phases in coordination with the city's Technology Development Corporation will increase digital access for approximately 80,000 Harlem residents, including 13,000 public housing residents, as well as businesses and visitors in the area. The free public network will serve the community for an initial five-year term. The first phase, extending from 110th to 120th Streets between Madison Avenue and Frederick Douglass Boulevard, has begun, and the remaining phases will be complete by May 2014.
Click here to learn more about the Free Harlem WiFi project."

Family Ju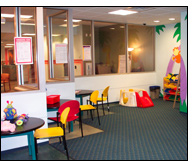 stice Centers (Mayor's Office to Combat Domestic Violence)
The first New York City Family Justice Center opened in Brooklyn in 2005 to provide a range of centralized services for domestic violence victims. The overall objective of the Family Justice Center Initiative is to break the cycle of domestic violence by providing essential advocacy, case management, legal and housing assistance under one roof. Services are provided with the involvement of partner agencies including non-profit organizations, City and State agencies, District Attorney's Offices, and faith-based organizations.

The success of the first center has been replicated in three subsequent centers in Queens, Manhattan, and the Bronx. Development for the City's fifth Center in Staten Island began in December 2013.
Learn more about the Family Justice Centers on the Mayor's Office to Combat Domestic Violence website.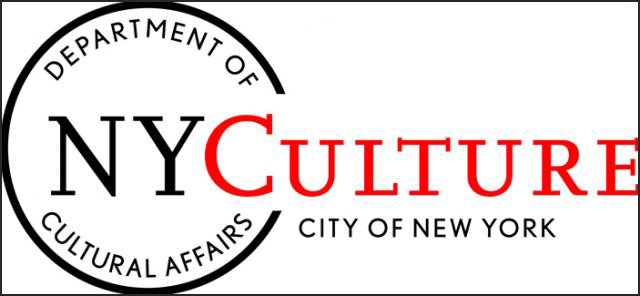 Diversity Initiative (Department of Cultural Affairs)
The New York City Department of Cultural Affairs (DCLA) launched the Diversity Initiative in January 2015 to promote diversity among the leadership, staffs, and audiences of cultural organizations in New York City, in alignment with Mayor de Blasio's vision for a more equitable city and as an investment in the long-term viability of New York City's cultural field. As resident demographics continue to shift, the Mayor's Fund and DCLA believe that a workforce, leadership and audience that reflect these changes will help to position cultural organizations to continue to meaningfully engage New Yorkers, strengthening the cultural sector as a whole. In order to achieve its goals, the Diversity Initiative will be conducting a demographic survey of DCLA's nearly 1,000 grantee organizations to examine race, ethnicity, gender, disability, age, and other factors. Once the survey is complete, the Initiative will begin to develop recommendations for action to boost diversity throughout this important sector.
Learn more about the Diversity Initiative in the press release.


Mayor's Office of Media and Entertainment Community Enrichment Grants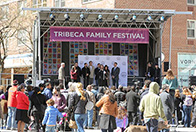 In April 2015, the Mayor's Fund partnered with the Mayor's Office of Media and Entertainment and the Theatrical Teamsters Local 817 to award the Mayor's Office of Media and Entertainment Community Enrichment Grants to support community enrichment in local neighborhoods across New York City. The three $50,000 "Made In NY" grants were given to El Puente, Socrates Sculpture Park and the Urban Arts Partnership.
Click here to learn more about the projects that were awarded.


Gracie Mansion (Office of the Mayor)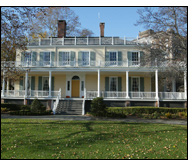 The Gracie Mansion Conservancy is a private not-for-profit corporation established in 1981 to preserve, maintain, and enhance Gracie Mansion - one of the oldest surviving wood structures in Manhattan and a member of The Historic House Trust. The Conservancy's mission is to raise funds to restore and maintain the historic structure and acquire furnishings that illustrate the rich history of New York; improve the surrounding landscape and gardens; and provide educational services, including publications and tours.

To learn more, visit the official Gracie Mansion website.


NYC Civic Corps (Office of the Mayor)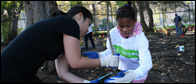 As part of NYC Service, the initiative to promote volunteerism in New York City, NYC Civic Corps was launched on April 20, 2009. NYC Civic Corps matches individuals with local public and nonprofit organizations to help build sustainable-impact volunteer programs. Now in its second year, the initiative is helping to drive volunteer activity to the issues where the City's needs are greatest: strengthening neighborhoods and helping neighbors in need, education, health, emergency preparedness and the environment. NYC Civic Corps members receive a monthly living allowance, health insurance, educational awards, and other benefits.

Learn more about NYC Civic Corps on NYC Service's website.

Greater NY (Office of the Mayor)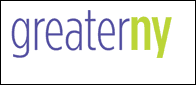 Launched by private sector business leaders in 2009 in response to the economic downturn, GreaterNY is a strategic partnership program that pairs business executives with nonprofit executive directors in an effort to build stronger and more effective nonprofits. Through two-year, one-on-one partnerships, leaders work together to develop and implement innovative solutions to nonprofit business challenges using best practices from both the private and nonprofit sectors. GreaterNY is one of a group of Nonprofit Assistance Initiatives, which aim to reduce nonprofit organizations' fixed costs, expand loan programs, enhance the responsiveness and efficiency of City contracting procedures to speed payments, and build new partnerships, such as GreaterNY, to help foster stronger nonprofits.

Learn more about GreaterNY on the NYC Nonprofit Assistance Initiatives website.

Neighborhood Opportunity Network (Department of Probation)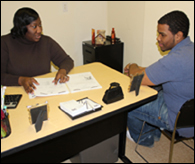 The Neighborhood Opportunity Network (NeON) initiative establishes community-based probation offices that work with a network of local educators, local businesses, community organizations, government agencies, and community residents to link probation clients to resources and help them develop skills as they reintegrate into their neighborhoods. NeON locations are currently open in Brownsville, Harlem, Jamaica, Staten Island, East New York, Bedford-Stuyvesant and the South Bronx. DOP is also establishing NeON Satellites at the offices of local organizations. The NeON strategy further seeks to transform neighborhoods by engaging with community members through a variety of avenues including public forums, community boards, tenant associations, and faith-based organizations to design and implement community benefit projects. Probation clients who find work, continue their education, support their families and contribute to the well-being and stability of their neighborhoods help build stronger, safer and more vibrant communities.

Learn more about NeON on the Department of Probation's website.

NYCitizenship in Schools (Mayor's Office of Immigrant Affairs)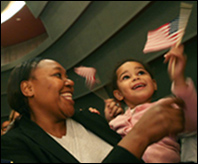 NYCitizenship in Schools serves eligible foreign-born parents of NYC public school students with information on the naturalization process, free immigration legal assistance, and access to microloans and free financial counseling to help them apply to become U.S. citizens. Led by the Mayor's Office of Immigrant Affairs in partnership with CUNY Citizenship Now!, the NYC Department of Education, the NYC Department of Consumer Affairs' Office of Financial Empowerment, the East River Development Alliance and the Neighborhood Trust, this unique initiative addresses common barriers to naturalization while also providing many low-income families access to financial assistance and counseling to help them build financial independence in the United States. By combining a myriad of services into a single initiative and launching this program in the public school system, NYCitizenship in Schools is leveraging a previously untapped opportunity to connect immigrant families with a range of public and private sector service providers in a safe, familiar setting at a critical stage in their preparation for college and future career and life success. The services of this program are available for eligible parents who are Lawful Permanent Residents and seeking to begin the application process to become U.S. citizens. Parents are being notified about service events through school and community outreach.

Learn more about NYCitizenship in Schools on the Mayor's Office of Immigrant Affairs Website.