City Hall Portrait Conservation (Design Commission)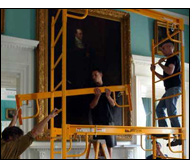 The City Hall portrait collection, an integral, historical component of the interiors of City Hall, offers a visual history of the people whose actions and contributions, whether political, military, or social, made a significant impact on the City. The collection includes portraits of U.S. presidents, New York State governors, New York City mayors, foreign dignitaries, military and naval heroes, and political leaders who worked in City Hall or visited New York City. This collection is considered one of the most outstanding groups of portraits by American artists in the United States and consists of more than 100 paintings by some of the leading late 18th to mid 19th century American artists. 
Funds raised by the Mayor's Fund are allocated to the individual portraits and frames most in need of conservation while simultaneously creating an endowment for the entire collection. The endowment will provide for regular maintenance as well as ongoing conservation to guarantee that the needs of the entire collection are addressed strategically over the long term.
Read more about this effort on the NYC Design Commission's website.


 
Materials for the Arts (Department of Cultural Affairs)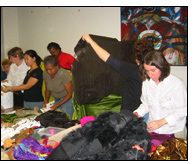 Since 1978, Materials for the Arts has provided thousands of New York City's arts and cultural organizations, public schools, and community arts programs with the supplies they need to run and expand their programs. Materials are gathered from companies and individuals that no longer need them and redistributed to the artists and educators that do. In the process, hundreds of tons are removed from the waste stream every year and kept out of landfills, helping to sustain our environment and promote reuse and waste reduction. MFTA helps artists realize their visions, provides students with a richer educational experience, and furnishes businesses and individuals with a simple and efficient way to enhance the cultural life of their City. MFTA is currently the largest supplier of free arts materials to the New York City public school system, and just recently, was recognized for its innovative environmental work by the New York State Department of Environmental Conservation. MFTA seeks reusable items for distribution and monetary donations to support its public programs.

To donate material items, call 718-729-2065 or email donations@mfta.nyc.gov. More information is also available on MFTA's website.

Spaceworks (Department of Cultural Affairs)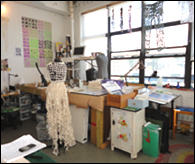 New York is one of the world's great cultural capitals and maintaining a vibrant creative sector is crucial for the City's economy, identity, and quality of life. In response to the need for long-term affordable creative workspaces for artists in New York City, the Mayor's Fund has worked with the NYC Department of Cultural Affairs to establish Spaceworks, a nonprofit organization that will create new arts workspaces in underutilized public and private properties in all five boroughs. Spaceworks will provide the real estate development and management expertise to create a variety of workspaces to serve artists of all disciplines. Working closely with local cultural organizations, arts councils, and other community based organizations, this exciting initiative will forge long-term partnerships to enhance program services for artists and encourage neighborhood development.
For more information, visit the Spaceworks website.