HURRICANE SANDY 6-MONTH UPDATE
HIGHLIGHTS OF ONGOING RECOVERY & REBUILDING PROJECTS
Rebuilding Projects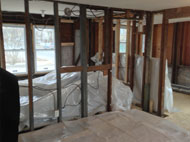 In response to the continuing need to repair homes damaged by Hurricane Sandy, the NYC Home Repair Consortium has been created to repair non-structurally damaged rental and owner-occupied properties that still have unmet needs. The Consortium is being funded by the Mayor's Fund to Advance New York City, American Red Cross and Robin Hood Relief Fund. It will be composed of a group of nonprofit organizations that will be selected to scale repair work and serve at least 600 properties.  To learn more about this program, to register for assistance, or to join the Consortium as a nonprofit construction organization, click here.
Related News:
Nonprofit Recovery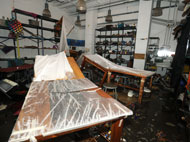 New York City relies on nonprofits to provide a broad range of essential services to its diverse communities.  After Hurricane Sandy that need was more urgent, even as many nonprofits were struggling to recover from the storm themselves.  The Mayor's Fund brought together philanthropic partners to launch a bridge loan program (totaling $26M), recently expanded to provide loan/grant matches and direct grants for tangible losses as well. Administered by the Fund for the City of New York, the program provides, on a rolling basis, assistance to organizations that suffered the most severe losses and/or operate in the worst affected areas.  Nonprofits seeking assistance can find more information here.
Related News:
Small Business Support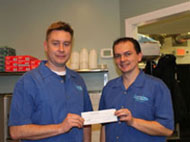 Small businesses play an essential role in the recovery of neighborhoods hit hardest by Hurricane Sandy, including access to food, medication, and other essential daily living needs.  To support this recovery, the Mayor's Fund partnered to launch a Small Business Matching Grant Program (administered by the New York Business Development Corporation) providing grants up to $10,000 to businesses that suffered the most severe losses and are receiving $25,000 loans through the City's Emergency Loan Program, and a micro-grant program (administered by the New York City Business Assistance Corporation) for small businesses that may not be able to qualify for the City's Emergency Loan Program to repair and replace items such as signage and awnings that were lost. Small Businesses seeking assistance can find more information here.
Related News:
Mold Treatment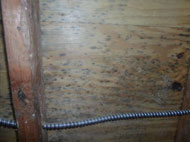 Homeowners and landlords with properties of all sizes are facing challenges with mold treatment.  While individuals can often use FEMA checks for this purpose, mold treatment and cleaning is often an area of concern and confusion.  The Mayor's Fund is supporting a coordinated effort led by Neighborhood Revitalization NYC (a project of Local Initiatives Support Corporation) to coordinate and help provide mold treatment to 2,000 homes, working with skilled contractors and nonprofit organizations to complete work in each borough in coordination with existing data and local elected officials.  This is jointly sponsored with the American Red Cross and the Robin Hood Foundation.  In addition, the Mayor's Fund is sponsoring free awareness and safe practice trainings regarding mold treatment, where mold supply kits will also be distributed at no cost. The trainings, offered by Hunter College/UMDNJ in conjunction with the NYC Department of Health, are taking place in neighborhoods most affected by the storm.  For more information about the mold treatment program, click here.  For a schedule of trainings, click here.
Related News:
Public School Students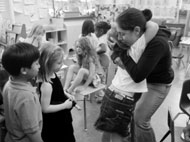 Thousands of students were displaced or relocated from their schools as a result of the hurricane, and many were cut off from access to a computer or the internet. Both of these factors resulted in significant unanticipated learning gaps for students who live or attend schools in impacted areas.  The Department of Education, with support from the Mayor's Fund, is providing expanded counseling programs, mentoring, academic support and afterschool services at 39 schools where students were most impacted by the storm.
Related News
Emergency Food Providers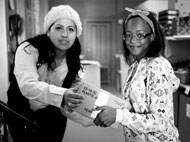 The citywide the emergency food network, including soup kitchens and food pantries, have been overwhelmed with the influx of new clients since Hurricane Sandy.  Grants to Food Bank For New York City and City Harvest are complementing funds from the American Red Cross to provide approximately 4,000,000 meals over two months serving approximately 450,000 people and support the food delivery network over six months.  In addition, these programs supplement New York City's Emergency Food Assistance Program, administered by the Human Resources Administration (HRA).
Related News
Homeowner Assistance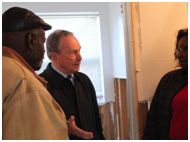 Many homeowners living in neighborhoods affected by Hurricane Sandy need sound guidance on how to rebuild both their homes and their finances as they face unprecedented loss and uncertainty. The Mayor's Fund is sponsoring a network of housing counselors and legal service providers to give those homeowners access to expert help navigating the complex rebuilding and recovery process. The initiative is led by the NYC Department of Housing Preservation and Development, Mayor's Office of Housing Recovery Operations, and Center for New York City Neighborhoods. Homeowners seeking assistance can call 311 or click here.
Related News
Public Library Support
All three City library systems were impacted by the hurricane including hundreds of thousands of lost books, damaged critical equipment and several facilities that sustained major physical damage.  The Mayor's Fund is supporting recovery efforts to the Queens Library (including five branches located in the Rockaways), the Brooklyn Public Library (including five branches), and the New York Public Library (including circulating resources from their Staten Island patron base).
Relief Service Projects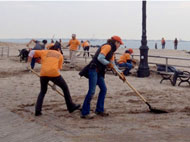 Volunteer efforts are a critical part of New York's recovery efforts.  The Mayor's Fund is purchasing supplies and other needs for NYC Service volunteer efforts, including the MLK Day of Service and weekend Sandy Service projects in coordination with NYC agencies.  Anyone wishing to volunteer on Sandy relief projects may sign up here.
Nonprofit and Citywide Coordinators
In order to maximize service coordination and coordination with the City, the Mayor's Fund is supporting citywide coordinator positions and borough specific coordinators for City contracted nonprofit organizations working in support of hurricane relief (an additional grant was made by the Robin Hood Foundation for a coordinator at a fifth organization).  These efforts are in close partnership with the Office of the Deputy Mayor for Health & Human Services.
Immigrant Community Outreach
New York City's immigrant communities in hurricane-affected areas are faced with a unique set of challenges. The Mayor's Fund is sponsoring teams of outreach workers from community-based organizations working in the hardest-hit areas of the City to survey immigrant households about their needs, connect them with services for which they are eligible, and provide information on the City's plans for long-term disaster case management in these communities. This grant is administered by the Mayor's Office of Immigrant Affairs, working with the Federation of Protestant Welfare Agencies.
Related News:
Childcare Centers
The Administration for Children's Services prioritized three childcare centers that were closed or partially opened in the Rockaways, Coney Island and Sheepshead Bay, and unable to apply for many FEMA grant opportunities.  Funds are helping to expedite heating repairs and provide supplies to furnish classrooms so that they can fully re-open and serve families in affected areas.
Nonprofit Legal Assistance
In the wake of Hurricane Sandy, Lawyers Alliance of New York revived its Disaster Relief initiative to represent and provide legal information to New York nonprofits both impacted by the storm and responding to the storm. The City and 311 have been referring nonprofits to LANY since the storm. LANY continues to provide assistance to nonprofits and assist with nonprofit legal questions relating to the Nonprofit Recovery Loan Program.  Nonprofits affected by Hurricane Sandy and wishing to obtain legal advice may contact LANY here.