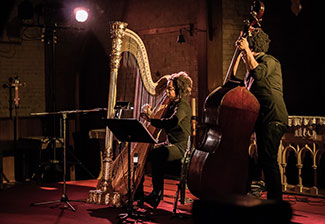 January 5, 2015 - New York's jazz scene is as vibrant today as when Louis Armstrong, Charlie Parker, and Duke Ellington were celebrated across the globe and called the New York City home. There are opportunities galore to explore both the fascinating past and extraordinary present of jazz music across the City this month.


James Reese Europe & the Harlem Hellfighters – Jazz's Forgotten Heroes at the National Jazz Museum in Harlem
James Reese Europe is one of the most vital of all figures in the first two decades of 20th-century music. By founding the Clef Club and its 125-man orchestra, he pioneered the organization of African-American musicians, finding work and social opportunities for them in the era's highly segregated music world. In the 1910s, Europe helped popularize the foxtrot and ballroom dances based on ragtime, Latin, and jazz rhythms. Come learn about this long-forgotten figure and his importance to jazz and Harlem history with multi-Grammy nominated musician and educator Bobby Sanabria.
January 6, 2015 at 7pm | Free admission
National Jazz Museum in Harlem, 104 E. 126th Street, Harlem, New York, NY 10035
www.jazzmuseuminharlem.org

Birth of the American Orchestra, Jazz at Lincoln Center
The Jazz at Lincoln Center Orchestra with Wynton Marsalis delves into the phenomenon of the American Jazz orchestra through the syncopated dance beats of New Orleans, innovative ensemble virtuosity, and the monumentality of swing and the blues. They will also explore the roles of orchestral instrumentation and the expansion of harmonic prospects, the evolution of the rhythm section, and the distinctiveness of the master composers and arrangers involved. At the forefront of this celebration are Don Redman, Fletcher Henderson, Bill Challis, Duke Ellington, Benny Carter, Eddie Durham, Chico O'Farrill, and Gil Fuller.
January 8 and 9, 2015 at 8pm | Tickets begin at $30.
Jazz at Lincoln Center, 10 Columbus Circle, Manhattan, New York, NY 10019
www.jazz.org

Winter JazzFest
The 11th annual NYC Winter Jazz Fest will happen January 8-10 at ten different NYC venues. What started as a one-night festival featuring 19 groups has grown into four-day festival that lights up 10 venues with 100+ acts. This perennial highlight of NYC's jazz calendar hosts its signature Greenwich Village marathon on January 9 and 10, preceded on January 8 by two kick-off events. This year's line-up includes Marc Ribot & The Young Philadelphians, So Percussion, Robert Glasper Trio, Kneebody + Daedelus, Strange and Beautiful: The Music of John Lurie and The Lounge Lizards, and many more.
January 8 – 10, 2015 | Tickets begin at $25.
Various venues around Manhattan
www.winterjazzfest.com

Erik Deutsch at BAMcafé Live
Described by The New York Times as "a pianist with a taste for tuneful provocation," jazz keyboardist Erik Deutsch has experimented with everything from prog-rock to psychedelia to country. A former member of the Charlie Hunter Trio, Deutsch and his accomplished backing band create genre-defying instrumental jams that encompass funk bass lines, countrified pedal steel guitar, and spaced-out experimental sounds.
January 23, 2015 at 10pm | Free Admission
Brooklyn Academy of Music, Peter Jay Sharp Building, 30 Lafayette Avenue, Brooklyn, NY 11217
www.bam.org

An Evening with Lionel Loueke at Symphony Space
Arturo O'Farrill and the Afro Latin Jazz Orchestra team up with Benin-born artist Lionel Loueke to present big band arrangements of select works from the celebrated guitarist's catalogue. Loueke has been widely praised for his fusion of traditional West African music with modern jazz harmonies, unique vocal inflections, and complex time signatures. A pre-performance moderated discussion will take place at Symphony Space on Friday, January 30, 2015. The moderator will be noted composer, musician, producer, and musicologist Ned Sublette.
January 30 and 31, 2015 at 8pm | Tickets $20-$40
Symphony Space, 2537 Broadway at 95th Street, Manhattan, New York, NY 10025-6990
www.symphonyspace.org

"To Jack Bradley, the 'Greatest' Photo Taker": Treasures from the Jack Bradley Collection at the Louis Armstrong House Museum
The Louis Armstrong House Museum's current exhibition "To Jack Bradley, the 'Greatest' Photo Taker": Treasures from Jack Bradley Collection celebrates the legacy of Louis Armstrong through the private access that long-time friend and photographer Jack Bradley had of Satchmo on stage, back stage, on the road, and at home. The exhibit includes a Giardinelli trumpet mouthpiece given from Armstrong to Bradley; a rare 78 Fletcher Henderson recording, autographed by Armstrong; unique photos of Armstrong; Bradley's "Louis is God" t-shirt; a one-of-a-kind "Red Beans and Rice" lamp and much more.
On view through March 2015 | Admission $10 for adults; $7 for students, seniors and children.
Louis Armstrong House Museum, 34-56 107th Street, Corona, Queens 11368
www.louisarmstronghouse.org

For a listing of jazz clubs around the city, visit NYC & Co: nycgo.com/articles/bebop-or-be-square-nyc-jazz-clubs.