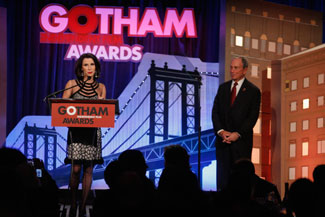 December 3, 2013 - At the 23rd Annual Gotham Independent Film Awards, Katherine Oliver, commissioner of the Mayor's Office of Media and Entertainment since 2002, received the Industry Tribute. Each year, the Industry Tribute is awarded to a career veteran who has significantly influenced the motion picture industry.

According to IFP, who organize the Gotham Awards each year, Commissioner Oliver has long been a champion of independent film and media and has made an indelible impact in the entertainment industry. "Through her work, Katherine has supported the production of thousands of film, TV and digital projects, furthermore bolstering the community of filmmakers and digital content creators in New York City," said Joana Vicente, executive director of IFP.

At the ceremony, which took place on December 2, Mayor Bloomberg presented the award to Commissioner Oliver. "Over the last twelve years, one of Katherine's main goals has been to re-kindle a golden age of TV and film production in New York City," said the Mayor. "No one has worked harder or delivered more for her industry or her city than Katherine."

Watch Commissioner Oliver receive the Industry Tribute from the Gotham Awards:


Upon accepting the award, Commissioner Oliver spoke about how she learned the importance of customer service from the Mayor and how she translated those practices working in government to make it more efficient to film in New York City.

"It's been priceless experience," she said onstage, "and I accept this generous award on behalf of our efforts and those of my staff at the Mayor's Office. They have worked so hard to make a difference and to serve this industry. I couldn't be more proud of their efforts.

"I could not have written a better script, cast a better set of characters, or asked for better reviews."

Also honored at the Gothams with Tribute awards were actor Forest Whitaker, director Richard Linklater and the late actor James Gandolfini.

The Gotham Awards honor the best in independent film and is the first event of the film awards season. Inside Llewyn Davis, which filmed on location in New York City, won the prize for Best Feature while Best Documentary went to The Act of Killing. Rylan Coogler took home the Bingham Ray Breakthrough Director Award for Fruitvale Station. Matthew McConaughey was honored with the Best Actor award for his role in Dallas Buyers Club, and Brie Larson was awarded Best Actress for her work in Short Term 12. The Breakthrough Actor award went to Michael B. Jordan.

The audience award was presented to Jake Shimabukuro: Life on Four Strings, and Gita Pullapilly received the Euphoria Calvin Klein Live the Dream grant for emerging female filmmakers.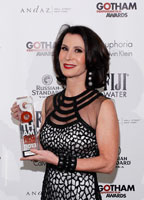 Commissioner Oliver attends IFP's 23nd Annual Gotham
Independent Film Awards. Photo by Brian Ach/Getty Images for IFP.