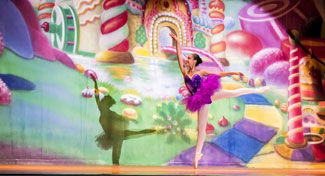 December 4, 2013 - The Nutcracker is a beloved mainstay for performing arts groups and audiences during the holiday season. This year, productions in all five boroughs range from faithful adaptions to playful re-imaginings, all of which breathe new life into the classic story. In addition to the renowned productions put on by New York City Ballet, American Ballet Theater and others, a number of smaller - but no less remarkable - performances occur across the City every year that will engage newcomers and veterans alike.

Peridance Capezio Center | The Nutcracker: A Contemporary Look
Salvatore Capezio Theater at Peridance, 126 E. 13th Street, Manhattan
December 14, 5:30 & 8:30 PM; December 15, 3:30 & 6:30 PM. Tickets $30.
By weaving hip hop, modern and ballet dance styles with the Tchaikovsky's original score, this performace uses a cast of over 60 dancers to present an exciting new take on the classic ballet.
peridance.com

LaGuardia Performing Arts Center | Nutcracker and Toyland
LaGuardia Performing Arts Center Main Stage Theater, 31-10 Thomson Avenue, Queens
December 14, 3:00 PM. Tickets $15 advance, $20 at the door.
This kid-friendly rendition of the Nutcracker allows the audience to visit Santa in Toyland following the performance, where each child receives a gift.
laguardiaperformingarts.org

Bronx Dance Theater | The Nutcracker
Lehman High School, 3000 E. Tremont Ave, Bronx
December 15 at 2 PM. Tickets $20.
BDT celebrates the return of the original Nutcracker Ballet. Over 120 classically-trained youth play the dolls, toy soldiers, mice, angels and the mouse king with a dazzling array of costumes and sets.
bronxdancetheatre.com

Dance Theatre in Westchester | The Colonial Nutcracker
Walt Whitman Theatre, Brooklyn College, Nostrand Ave & Avenue H, Brooklyn
December 15, 2:00 PM. Tickets $10.
Dance Theatre in Westchester performs its family-friendly, full-length version of Tchaikovsky's ballet set in wintry colonial Yorktown, featuring a cast of red-coated mouse army, an enchanted nutcracker prince, and simultaneous narration to that makes the play more accessible to young audience members.
brooklyncenter.com

Vicky Simegiatos Dance Company | The Nutcracker
St. George Theater, 35 Hyatt Street, Staten Island
December 22, 1:00 & 6:00 PM. Tickets $19 and up.
A full length ballet performance featuring principal dancers from the New York City Ballet, the Vicky Simegiatos Dance Company brings the Nutcracker to Staten Island's historic St. George Theater.
vspac.com

For more Nutcracker performances happening in New York City this December, visit www.nyc.gov/culture.