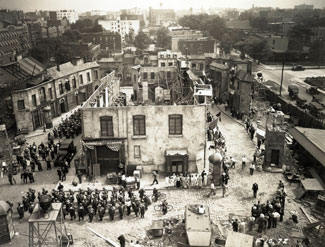 November 4, 2013 - Museum of the Moving Image pays tribute to the legacy of filmmaking in Astoria with an exhibition that traces the history of the Astoria Studio. 'Lights, Camera, Astoria!,' on view through February 9, 2014, explores each phase of the site from its start as Paramount Pictures' East Coast production facility in the 1920s, a center for independent filmmaking in the 1930s, the U.S. Army Pictorial Center from World War II into the Cold War, the site's rebirth in the late 1970s, to the present day Kaufman Astoria Studios, a thriving motion picture and television studio, and a vibrant cultural hub that includes Museum of the Moving Image, Frank Sinatra School of the Arts, restaurants and cafes.

The exhibit features more than 100 objects from the Museum's collection, including film stills, behind-the-scenes photographs and marketing and design materials to explore the rich legacy and renaissance of the studio campus. With material from silent-era films featuring Rudolph Valentino and Gloria Swanson as well as other stars, early talking films featuring the Marx Brothers, World War II training and propaganda films, such modern classics as Martin Scorsese's The Age of Innocence and television shows like "Sesame Street," "The Cosby Show," "Nurse Jackie," and "Orange Is the New Black," the exhibition reveals the significant role that Kaufman Astoria Studios continues to play in energizing its surrounding community and making moving-image history.

For more information, along with directions and opening times, visit movingimage.us.