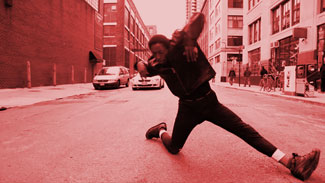 September 3, 2013 - Some of the world's greatest dancers and dance groups perform and perfect their craft in New York City. This September, festivals, classes and performances will provide New Yorkers and visitors with ample opportunities to experience world-class dance and try out their own moves.

September 5 – September 24
Performing the Streets
Albee Square and Willoughby Plaza, Brooklyn
This September, Performing the Streets presents extraordinary work to public plazas in Downtown Brooklyn. Events include a performance by Dancewave Dance Center students to kick off the festivities on September 5, a salsa demonstration and class from Mark Morris Dance Group on September 19, and more. Admission to all events is free. For more info, visit downtownbrooklyn.com.

September 6
Dancing Under the Sun
Pelham Bay Park, Bronx
Seniors are welcome to join a dance class, watch a performance or relax outdoors at Pelham Bay Park. Admission is free. To learn more, visit www.nyc.gov/parks.

September 7
Music in the Garden: Arab Music and Dance Ensemble, Zikrayat
Queens Botanical Garden, 43-50 Main Street, Queens
Zikrayat is a musical and dance performance that incorporates Egyptian, Lebanese and Arabian forms. The performance will feature both traditional and original compositions in classical and folkloric styles. Free with garden admission, $2-$4. For additional information, visit queensbotanical.org.

September 12 – September 21
BEAT Festival 2013
Various locations, Brooklyn
The BEAT Festival, now in its second year, celebrates the eclectic artistic talent of Brooklyn. Various local venues will be used for a wide range of performances, including dance, theater, music and more. Prices and locations vary, and include a number of free events. Street dancer Storyboard P will perform on the festivals free opening night at Brooklyn Museum. Visit beatbrooklyn.com to learn more.

September 16 – October 5
Fall for Dance Festival
New York City Center, 131 55th Street, Manhattan
Delacorte Theater, Central Park, Manhattan
Now in its 10th year, New York City Center's Fall for Dance Festival will feature performances by 20 acclaimed dance companies and artists from around the world. The Festival's five unique programs offer both classic and new work. Highlights include three new works commissioned by City Center in celebration of the 10th anniversary and two free evenings of dance at the Delacorte Theater in Central Park, hosted by The Public Theater, on September 16 and 17. Admission for Fall for Dance performances is $15. Visit nycitycenter.org for a complete schedule.

September 21
Cora Dance Grand Opening Weekend Block Party
Various locations, Brooklyn
Cora Dance a kicks off their 2013-2014 season with a mobile party of live performances in venues across Red Hook. From modern to flamenco to hip-hop, audiences will experience live performances at The Cora Studio, Red Hook Tabernacle Church, Rocky Sullivan's and other surprise locations from 8-10pm, followed by a dance party at Rocky Sullivan's. Tickets are $20 or pay-what-you-can. To find out more, visit coradance.org.