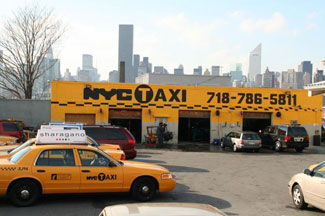 A special screening of Drivers Wanted will take place at a Queens taxi garage
parking lot. Photos courtesy of Flying On One Engine Productions Inc.
September 3, 2013 - New York City plays a host of a selection of film festivals, screenings and industry-themed events this month.

New Voices in Black Cinema – The 411 Sessions
ActNow Foundation, the non-profit arts organization that programs the annual New Voices in Black Cinema, is hosting a free informational session on September 4 for local emerging filmmakers on how they can best submit their work to their and other film festivals. Learn more at actnowproduction.org/new-voices-in-black-cinema-the-411-sessions.

Independent Film Week
Returning for its 35th edition from September 15-19, IFP's one-of-a-kind event brings the international film and media community to New York City to advance new projects and support the future of storytelling by nurturing the work of both emerging and established independent artists and filmmakers. Through the Project Forum, creatives connect with the financiers, executives, influencers and decision-makers in film, television, new media and cross-platform storytelling that can help them complete their latest works and connect with audiences. To learn more, visit ifp.org/programs/independent-film-week.

Queens World Film Festival Special Screening
On Saturday, September 7, a free screening of acclaimed director Joshua Z. Weinstein's Drivers Wanted will take place at a Queens taxi garage parking lot. Presented by Filmwax and the Queens World Film Festival with generous support from Rooftop Films, the film will be screened outdoors at the parking lot of the taxi garage where the documentary was shot to celebrate its forthcoming digital distribution. Additional info is available at facebook.com/events/458820097549890.

Urbanword Film Festival
The 17th Annual Urbanworld Film Festival takes place in New York City, September 18-22. This five-day festival brings together content creators and film enthusiasts to enjoy narrative features, documentaries, short films, as well as live staged screenplay readings, and Urbanworld Digital panels focused on technology's impact on all aspects of content creation. Visit Urbanworld.org for festival details.

Bootleg Film Festival
The Bootleg Film Festival, five years into its international tour, will be coming to the Tribeca Film Center from September 19-22. Independent filmmakers from all over the world will be showcasing their talent and networking with local artists. Visit bootlegfilmfestival.com for more information.

Coney Island Film Festival
The Coney Island Film Festival screens an eclectic range of films from the U.S. and all over the world and much to the delight of our audience features a number of "made in Coney Island" productions each year. In 2013 the Coney Island Film Festival is celebrating its 13th anniversary from September 20-22. To learn more, visit coneyislandfilmfestival.com.

Cine Gear Expo in NYC
The latest technology will be on display for film professionals to get hands-on training, gain knowledge and skills from industry leaders in all professions of the film community, obtain the newest equipment and network with peers. The event take place September 27-28 at the Metropolitan Pavilion, and more information is available at cinegearexpo.com.

New York Film Festival
The 51st New York Film Festival continues to introduce audiences to the most exciting, innovative and accomplished works of world cinema. This year's festival will feature 17 days of world premieres and retrospective screenings from September 27-October 13. Visit filmlinc.com/nyff/nyff.htm to learn more.

Manhattan Short Film Festival
Taking place from September 27-October 6, the festival is an instantaneous celebration that occurs simultaneously across the globe, bringing great films to great venues and allowing the audiences to select their favorites. Learn more at msfilmfest.com.