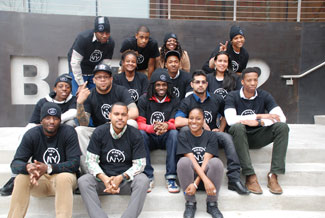 More than 400 "Made in NY" PAs have graduated since the program began.
Photo courtesy of BWI.

April 11, 2013 - The "Made in NY" Production Assistant Training Program, which connects unemployed and low income New Yorkers with jobs in the local film and television industry, has reached the milestone of graduating more than 400 PAs since the program's inception in 2006. The program was developed in partnership between the Mayor's Office of Media & Entertainment and Brooklyn Workforce Innovations, a local nonprofit organization that works to empower low income New Yorkers with employment opportunities and access to career paths. As part of the "Made in NY" PA Training Program, participants receive five weeks of free, intensive, hands-on training that covers everything from set etiquette and walkie talkie jargon to community outreach strategies and life management skills. Upon graduation, the new PAs will be put to work on sets and in production offices for feature films, TV shows, commercials and other productions taking place in New York City. The program continues to support the graduates by providing two years of job placement assistance as the PAs also begin to build their network of contacts in the industry.

"In the last 12 years New York City's film and television industry has grown considerably, now employing over 130,000 New Yorkers," said Mayor Michael R. Bloomberg. "The more than 400 'Made in NY' PAs who have gone through this program are a testament to the expanded job opportunities in film and TV production for all New Yorkers."

"Production assistants are the face of a production, and 'Made in NY' PAs are the best and the brightest," said Commissioner Katherine Oliver, Mayor's Office of Media & Entertainment. "The success of the 'Made in NY' PA Training Program means not only do young New Yorkers have the chance to learn new skills and start new careers, but also that they help keep the City film friendly by interacting with their fellow residents when productions film on location."

"The low income and unemployed individuals Brooklyn Workforce Innovations serves every day come to us facing remarkable barriers to long-term careers, and yet, with rigorous training and long-term support, most of them succeed," said Aaron Shiffman, the organization's Executive Director. "We are so proud of the 400 graduates who have completed the 'Made in NY' PA Training Program and can't wait to see how they, and future beneficiaries, will continue to shape the local film and television production industry in the future."

Since the program's start in 2006, "Made in NY" PAs have worked on over 2,000 productions, including "Boardwalk Empire," "Royal Pains," "Nurse Jackie," "Person of Interest" and "The Following," among others. Many graduates are also advancing in their careers, becoming associate producers, production coordinators, camera operators and set costumers and gaining union membership.

Graduates of the "Made in NY" PA Training Program have also gone on to create their own films and projects, serving as directors, writers, editors and cinematographers on their work. Ninety-six percent of the graduates are people of color, and the average age of graduates is 26 years old.

As part of its training, Cycle 30, which consisted of 15 individuals and graduated on April 11, got an inside look into the world of the production industry by visiting stage facilities Eastern Effects and Silvercup Studios, attending a taping of "The Wendy Williams Show" and hearing from guest lecturers from the Directors Guild of America, the International Cinematographers Guild Local 600 and Local 52 of the International Alliance of Theatrical Stage Employees. Recent cycles from the "Made in NY" PA Training program have also visited the sets of "Boardwalk Empire," "The Following," "Orange Is the New Black" and "Deception" as well as Panavision and Silvercup.

New York City is currently experiencing record levels of productions. During the 2012-2013 television season, the City has been home to a record-setting 25 primetime episodic series. In the 2001-2002 season, there were only 9 primetime episodic series based here. More than 130,000 New Yorkers earn their living working behind the camera in the local film and television production industry. The industry generates approximately $7.1 billion for the local economy annually. There are also 4,000 ancillary businesses that support production throughout the five boroughs.

Interested in learning more about the "Made in NY" PA Training Program? Click here.