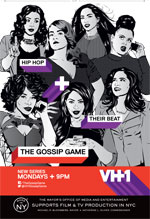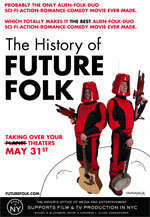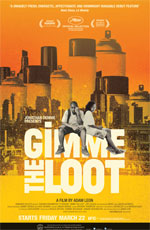 New films and series are part of the "Made in NY" Marketing Credit. Photos courtesy of MOME.


April 1, 2013 - The "Made in NY" Marketing Credit opens up City bus shelters and subways to feature film, TV and festivals this month.

Gimme the Loot follows two determined graffiti writers. The film premieres March 22.

Exploring the world of hip hop media, "Gossip Game" is VH1's latest reality series following NYC's competitive hip hop gossip beat. The series premieres Monday, April 1 at 9pm.

An Oversimplification of Her Beauty is a new film by Terence Nance exploring the complexity of being stood up for a date and its greater meaning. The film premieres April 12.

The 12th edition of the Tribeca Film Festival runs April 17-28. The festival includes films from 34 countries and talks from a variety of filmmakers and stars.

The new Comedy Central series "Inside Amy Schumer" explores the mind of provocative comedian Amy Schumer as she talks about sex, relationships and her crazy life. The series premieres Tuesday, April 20 at 10:30pm.

Based on the game show "Minute to Win It", the Spanish-language version "Minuto Para Ganar" moves to New York for its second season and is hosted by Marco Antonio Regil.

Two aliens form a Brooklyn bluegrass band in The History of Future Folk. This indie comedy opens May 31.

The "Made in NY" Marketing Credit provides free co-branded advertising to productions that shoot the majority of their projects in the five boroughs. To learn more about the marketing credit, click here.

- Michael Avila



The "Made in NY" shows are featured in advertising appearing
in bus shelters and in subways. Photos courtesy of MOME.