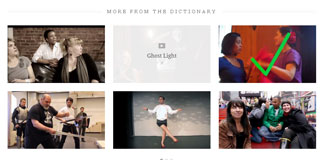 TDF's online theatre dictionary provides useful information
about theatrical terminology. Photo courtesy of TDF.

December 3, 2012 - TDF, the Theatre Development Fund, has announced a new slate of autism-friendly performances of Broadway shows for 2013 as part of its Autism Theater Initiative as well as an online theatre dictionary. The Initiative, which operates under the auspices of Theatre Development Fund's Accessibility Programs (TAP), will present autism-friendly performances of four Broadway shows in 2013: ELF, The Musical on Saturday, January 5 at 2pm at the Al Hirschfeld Theatre; Spider-man: Turn Off The Dark on Saturday, April 27 at 2pm (during Autism Awareness month) at the Foxwoods Theatre; and Disney's The Lion King at the Minskoff Theatre and Newsies at the Nederlander Theatre will have autism-friendly performances in the fall of 2013 (exact dates for these matinee performances to be determined).

"When we piloted this program we had a sense that there was a large audience of families in need of this service," said Victoria Bailey, TDF's executive director. "After the first performance it was clear that our presumption was true. Watching families experience live theatre together for the first time in an environment that was safe and supportive is a truly emotional and gratifying experience. We thank everyone at Disney Theatrical Productions for their professionalism and care as we piloted this program, as well as the Broadway producing community for allowing us to present these upcoming special performances."

In order to be "autism-friendly," the shows are performed in a friendly, supportive environment for an audience of families and friends with children or adults who are diagnosed with an autism spectrum disorder or other sensitivity issues. Slight adjustments to the productions include reduction of any jarring sounds or strobe lights focused into the audience. In the theatre lobby area there are designated quiet and activity areas, staffed with autism experts if anyone needs to leave their seats during the performance.

TDF has also announced the launch of the TDF Theatre Dictionary, a video guide to common and not-so common theatre lingo, accessible at theatredictionary.org. It defines theatre terms with short, original and humorous videos that have been made by TDF or commissioned from performing arts institutions across North America.

"With the dictionary we are striving to create an entertaining, accessible reference tool, while at the same time providing theatre companies a way to create art and reach their audiences," said Mark Blankenship, TDF's Online Content Editor.

The TDF Theatre Dictionary has been launched with 20 'theatre terms' such as "fourth wall," "peas and carrots," swing," strike," "missed cue," "table read," "hybrid theatre," and "George Spelvin." Two new 'theatre terms' will be added each month. The videos that describe these terms are paired with in-depth essays on the term being defined, letting the TDF Theatre Dictionary act as a reference tool as well as a video art project. A blog feature also lets users respond with comments, questions or their own definitions.

Visit tdf.org to learn more about the Theatre Development Fund's various programs and initiatives.