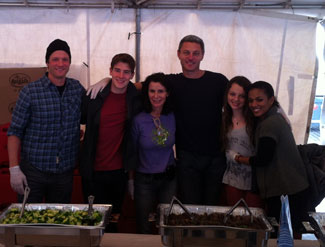 From l to r: Matt Letscher, Brendan Dooling, Commissioner Katherine Oliver, Mark Owen, Stefania Owen, and Freema Agyeman.

December 10, 2012 - In an effort to help their fellow New Yorkers, cast members from "The Carrie Diaries" – a "Made in NY" television series that premieres Monday, January 14 at 8pm on The CW – were on hand to help residents affected by Hurricane Sandy in the Rockaways on Saturday, December 8.

"The Carrie Diaries" cast members Matt Letscher, Freema Agyeman, Stefania Owen and Brendan Dooling helped serve hot meals to approximately 150 New Yorkers, with food donated by Warner Bros. Television, which produces the new one-hour drama. This is the latest of many efforts by the entertainment industry to lend its support to the City since the storm hit.

"The Carrie Diaries" stars AnnaSophia Robb as Carrie Bradshaw, an inquisitive and thoughtful teen coming of age in the suburbs, who is beckoned by the glamorous and gritty distant Manhattan as she maneuvers high school and asks her first questions about sex, love and loss. Based on the novel by Candace Bushnell and featuring a bright young cast, "The Carrie Diaries" — a one-hour drama from "Sex and the City" writer/co-producer Amy B. Harris and "Gossip Girl" executive producers Josh Schwartz and Stephanie Savage — is the origin story of how Carrie Bradshaw became Carrie Bradshaw. The series premieres Monday, January 14 at 8pm on The CW.