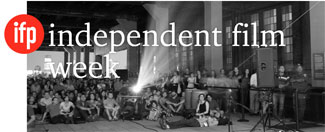 Independent Film Week begins on September 16. Photo courtesy of IFP.

September 4, 2012 - Independent Film Week continues its storied service to the film community as part of IFP's efforts to highlight independent filmmakers.

Independent Film Week takes place September 16-20 at various locations throughout Lincoln Center and is a one-of-a-kind event that brings the international film and media community to New York City to advance new voices and projects on the independent scene. The event is focused on supporting the future of storytelling by nurturing and providing opportunities for both emerging and established artists to connect with the financiers, executives, influencers and decision-makers in film, television, new media and cross-platform storytelling that can help them complete their latest works and connect with audiences.

Independent Film Week consists of Project Forum, which includes: Emerging Narrative (screenplays from emerging writer/directors), No Borders International Co-Production Market (screenplays represented by established producers with some financing in place), Independent Filmmaker Labs (features in post-production) and Spotlight on Documentaries (docs that are works-in-progress).

Independent Film Week also includes Independent Filmmaker Forum, a series of workshops and discussions for filmmakers and film-lovers, and Festival Forum, a gathering of international and U.S. film festival programmers.

The nonprofit IFP has evolved into the nation's oldest and largest organization of independent filmmakers, and also the premiere advocate for them. Since its start IFP has supported the production of 7,000 films and provided resources to more than 20,000 filmmakers.

For festival information, visit ifp.org.