September 4, 2012 - Creativity, ingenuity and a passion for teaching New York's students: these might be important traits for our City's successful educators. Yet having access to bags of glitter, bolts of fabric, pens, paper, and an endless supply of rubber bands as fuel for the imagination doesn't hurt either.

Since 1998, teachers have been able to receive these items—and many, many more—free of charge, from Materials for the Arts (MFTA). Founded by the Department of Cultural Affairs, MFTA is New York City's largest municipal reuse program, serving public schools citywide, civic agencies and non-profit organizations with arts programs by providing access to free materials.

Teachers from across the City are inspired by the diversity of items made available by MFTA's network of generous donors, which includes many of the film and TV productions that operate in NYC. Thanks to them, MFTA is able to provide everything from pens, scissors and paper from companies like innovative product designers Poppin, to more singular items used as props in the film and TV productions that shoot in New York (like the bar from Showtime's "Nurse Jackie," or guitars from the set of Men in Black III).

Throughout the 2011-2012 school year, staff members from nearly 650 schools made over 1,500 visits to MFTA's 35,000 sq. ft. warehouse in Long Island City, Queens. Here are just a few of the innovative projects carried out in a variety of subject areas using materials from MFTA.

Studying the Industrial Revolution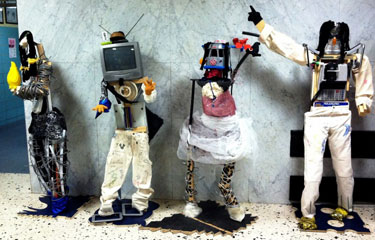 Photo courtesy of Material for the Arts.
As students from IS 231 in Rochdale, Queens studied the Industrial Revolution their instructors helped them build sculptures out of a variety of manufactured items obtained from MFTA, providing them an opportunity to investigate the impact of industry on their lives.

Beautifying Schools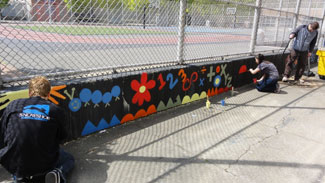 Photo courtesy of Material for the Arts.
Education nonprofit Change for Kids worked with students from PS 243 in Bedford-Stuyvesant, Brooklyn to execute three vibrant murals and organize the school's museum.

Math Lessons from MFTA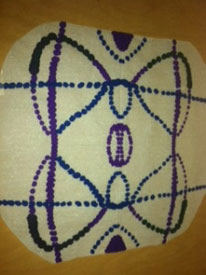 Photo courtesy of Material for the Arts.
A teacher from PS 96 Joseph Lanzetta School in East Harlem, Manhattan used coffee filters she found in the warehouse to teach her students a math lesson. By having students fold the filter into equal quadrants and locate the lines of symmetry they were able to observe the mirrored or repeated images they paint onto the filters. Next year she plans create a similar project with second graders using the filters as color wheels.

Fashion Class in Staten Island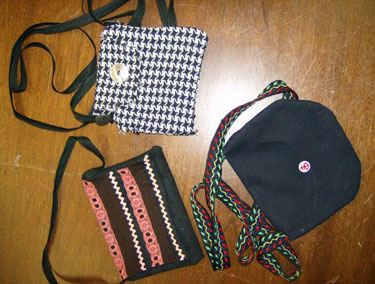 Photo courtesy of Material for the Arts.
An art teacher at Tottenville High School in Staten Island teaches a fashion class to her students. She uses materials from the warehouse to make bags, accessories and hand puppets with her students. In her words, her "fashion class would not exist" without MFTA and their generous donors.

Haunted Hallways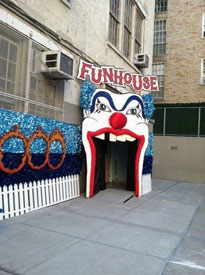 Photo courtesy of Material for the Arts.
Last October, students from PS 158 on Manhattan's Upper East Side created a haunted house using reclaimed wood, paint, Plexiglas and other items from the warehouse.

MFTA Fabrics Take Flight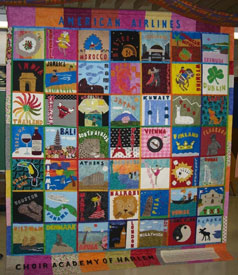 Photo courtesy of Material for the Arts.
The Choir Academy of Harlem made a quilt in honor of their corporate sponsor, American Airlines (AA). The students researched the cities that AA flies to and created distinctive symbols for each place. The idea (as well as the materials) for the work came from a donation to the warehouse of various fabric swatches from Michael Miller Fabrics. After representatives of the school presented the quilt to American Airlines at a special ceremony, it was displayed in the school's lobby before being transferred to the AA terminal at John F. Kennedy Airport.

To learn more about Materials for the Arts and how you can become involved as a recipient, donor or volunteer, visit mfta.org.