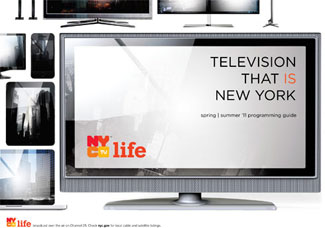 New shows premiere thoughtout the summer on NYC life.
July 1, 2011 - All summer long, tune in to NYC life (channel 25) for new and returning TV series, showcasing everything that's unique about New York City. NYC life is the flagship station of NYC Media, the official network of the City of New York.

Mondays, 8:30pm: From reviews of classic films with critic A. O. Scott to the latest fashion trends with photographer Bill Cunningham, NYTV brings unique insight into arts and culture in the City we call home – all from these and other renowned New York Times reporters.


Mondays, 9:30pm: 92Y showcases conversations with some of the most fascinating people that have graced the stage of New York's 92nd Street Y. Episodes feature conversations with luminaries such as Bill Gates, Christiane Amanpour, Matthew Broderick and Madeleine Albright.

Tuesdays, 8:30pm: The Emmy Award-winning Secrets of New York and host Kelly Choi are back for an all-new season. Kelly takes viewers along for the ride as she criss-crosses the City uncovering the truth behind the speakeasies that popped up during Prohibition, the ghosts that haunt local theatres, the oldest movie studio in the country, the explosion that rocked New York Harbor in 1916, and much more.

Tuesdays, 10pm: Hosted by veteran WNBC reporter Gabe Pressman, Mr. Mayor focuses on pivotal moments in the tenures of mayors from William O'Dwyer to Rudolph Giuliani, painting a picture of the evolution of this great City as seen through the prism of mayoral challenges.

Wednesday, 8:30pm: Celebrity hairstylist Keith Campbell searches the boroughs for a new assistant in the reality series, The Hair Architect Show. Contestants face-off in challenges that put their skills to the test as they attempt to jump-start their careers in the hair industry. Who will be the "The Next Hair Architect"?

Wednesdays, 10pm: Columbia University's Graduate Film Program presents Columbia Cinema: New Short Films from Columbia University School of the Arts, a series of short films. Each episode showcases two short films by Columbia MFA students and alumni that tell stories from around the City and around the world.

Thursdays, 8:30pm: Appetite City tells the history of New York through its food. Noted author and former restaurant critic of the New York Times William Grimes takes viewers back in time to explore the origins of some of New York's most loved and iconic foods with visits to Brooklyn delis, historical taverns and local food markets. Premieres August 11.

Thursdays, 9pm: Food. Curated. host Liza de Guia returns for a new season, providing a window into the lives and passions of local food artisans, farmers, fishermen and chefs as they share their stories about the origins of good food. Premieres August 11.


NYC life is available in the New York tri-state area on broadcast, cable and satellite channels. Visit nyc.gov/media for local cable and satellite listings. Most series are also available to watch online on the NYC Media Video on Demand player – nyc.gov/vod.