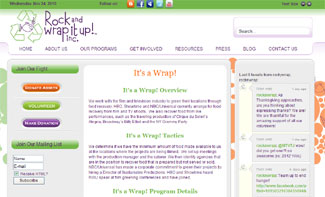 December 1, 2010 - Rock and Wrap it Up! is a unique and innovative green program – an anti-poverty, non-profit and non-partisan organization based in New York. With partnerships with over 150 bands, 60 professional sports franchises, many colleges and hotel chains, and local productions, Rock and Wrap it Up! boxes up all prepared but untouched meals from events and venues and delivers them to local food banks and charitable organizations. Since its inception in 1991, the program has donated to over 43,000 shelters and places of need, collected over 250 million pounds of food and fed more than 500 million people.

Rock and Wrap it Up! works with various film and television productions as well. The organization has partnerships with HBO, Showtime, MTV Networks and NBC Universal, among others. The food recovered from a recent film for example – one ton of fresh produce – was able to feed over 500 people for an entire week.

"Using greening tactics, we recover food and other assets to be given to agencies fighting poverty, increasing their operating budgets," said Diane Mandelbaum, vice president of operations. "[We] encourage the recovery food that has been prepared but not served to be donated to agencies fighting hunger and poverty. This tactic helps to feed the hungry in our communities as well as green a movie, television or commercial set."

Recently, Rock and Wrap it Up! collected food from several "Made in NY" productions, including "Boardwalk Empire," Fair Game, "The Good Wife," Premium Rush, and It's Kind of a Funny Story, among others. Rock and Wrap it Up!'s "It's a Wrap!" program determines if a production yields their minimum amount of food and then begins to identify local agencies that are able to recover it.

According to Rock and Wrap It Up!, the goal of this program is to recover as many assets as possible to both feed those who hunger and further green the planet. By recovering and reallocating food, Rock and Wrap it Up! helps to provide communities with food and to increase agencies' operating budgets as a result. This allows the agencies to hire more services such as tutors, social workers, job placement counselors, green collar job training and mental health counselors to attack the root causes of poverty.

To learn more about Rock It and Wrap It Up!, visit http://www.rockandwrapitup.org.