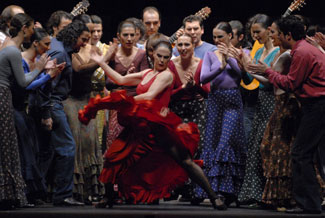 December 1, 2010 - New York City's nonprofit cultural community presents hundreds of dynamic events and exhibits that are free or low-cost to the public. Below is a sampling of exciting, family-friendly events taking place across the five boroughs this holiday season. Visit nyc.gov/nyculture or call 311 or for more information about these and other events.

Bronx

Seasons Greetings: Family Art Project (Bienvenida a la Estación) at Wave Hill
Make your own live-action holiday cards. Liven up the winter with pop-up scenes of Wave Hill's winter wonders to send and share. Saturday and Sunday, December 4 and 5, 2010, 10am - 1pm. W 249th Street and Independence Avenue, Bronx. Meet at the Ecology Building. Free admission and admission to the grounds is free until noon.

Lehman Center for the Performing Arts presents "A Bronx Messiah"
A performance of Handel's "Messiah", featuring the Bronx Opera Chorus and the Orchestra of the Bronx. When you purchase a ticket to Handel's "Messiah", you are admitted free to A Taste of the Bronx Food Show and Tasting. Sunday, December 12, 2010, 3pm. 250 Bedford Park Blvd W, Bronx. Tickets $10-$25; Children 12 and under $10 dollars any seat.

Holiday Train Show at The New York Botanical Garden
The Holiday Train Show presents an enchanted New York, wrapped in the glow of twinkling lights in the warmth of America's premier glasshouse, the Enid A. Haupt Conservatory. More than a dozen large-scale model railway trains and trolleys traverse nearly a quarter-mile of track across rustic bridges, along overhead trestles, through tunnels, and past waterfalls that cascade into flowing creeks. Through Sunday, January 9, 2011, 10am - 6pm. Bronx River Parkway, Exit 7W and Fordham Road, Bronx. Admission is $25 adults; Seniors/Students $22; Children $15; Children (under 2) Free.

Lyrical Abstraction: Works by Natvar Bhavsar and Robert Natkin at The Hebrew Home at Riverdale
This exhibition brings together the work of artists Robert Natkin (American, 1930-2010) and Natvar Bhavsar (Indian, b. 1934), both known for their use of color and texture, and active in the Lyrical Abstraction movement. The exhibition features work from the Hebrew Home's permanent collection, including vibrant, textured paintings using dry pigment by Bhavsar, and lithographs that exemplify Natkin's utilization of color and pattern. Through Sunday, January 9, 2011, 10:30am - 4:30pm. 5901 Palisade Ave, Bronx. Free admission.

Brooklyn

Bindlestiff Open Stage Variety Show at Galapagos Art Space
A first look at New York City's finest emerging variety talents and an intimate experience with circus stars from around the world, circus and sideshow vaudeville, burlesque, dance and music. Galapagos Art Space has dedicated one Monday of every month to celebrating works in progress, emerging artists, and professionals trying something new. Monday, December 6, 2010, 8pm – 10:30pm. 16 Main Street, Brooklyn. Admission is $5.

NY Creates: Holiday Craft Festival at Brooklyn Historical Society
Find an array of unique craft items to suite any taste at the NY Creates: Holiday Craft Festival at the Brooklyn Historical Society. The Festival features high quality and creative hand-crafted gifts - ceramics, jewelry, apparel, plush toys, organic cosmetics, glass works, photo art and home goods at affordable prices. Wednesday, December 8 to Sunday, December 12, 2010, 11:00 pm- 7:00 pm. 128 Pierrepont Street, Brooklyn. Free admission.

The Hard Nut: Mark Morris Dance Group at Brooklyn Academy of Music
To celebrate its 30th anniversary and the holiday season, Mark Morris Dance Group reprises its irreverent and much loved The Hard Nut, a retro-modern take on the holiday favorite The Nutcracker. December 10, 11 and 15—18, 2010, 7:30pm and December 12 and 19, 2010, 3 pm. Howard Gilman Opera House, 30 Lafayette Avenue, Brooklyn. Tickets $25- $70.

The Colonial Nutcracker at Brooklyn Center for Performing Arts
Dance Theatre in Westchester performs an abridged, narrated version of Tchaikovsky's classic ballet set in wintry colonial Yorktown. Recommended for ages four and up. December 12, 2010, 2pm – 3pm. 2900 Campus Road Flatbush and Nostrand Ave, Brooklyn. Advance tickets $6.

WAXworks 1219 at Triskelion Arts Theater
A non-curated performance showcase at Triskelion Arts Theater, designed to help artists advance their creative process by viewing their work through written criticism from the objective eyes of a live audience. The performance will feature work by Daniela Hoff Dance Company, Deep Vision Dance Company, Chris Ferris and Dancers, VESSEL, Karesia Batan, Robert Scoggins, and Gillian Chadsey. Sunday, December 19, 2010, 7pm. 118 N 11th Street, 3rd Floor, Brooklyn. Suggested donation $10.

Manhattan

Ballet Hispanico at The Joyce Theater
Ballet Hispanico celebrates its 40th Anniversary year at the Joyce Theater with ground-breaking choreography, stirring new music, and inventive media. Performance highlights to include a multi-media collaboration, a new work with music by Gabriela Lena Frank, and a world premiere celebrating Celia Cruz, the Queen of Salsa. Tuesday, November 30 to Sunday, December 12, 2010. 175 Eighth Avenue, Manhattan. Tickets range from $10-$59 dollars.

Cuchifritos Gallery and Project Space presents The Chinese Encyclopedia
A character in a Borges story finds an old Chinese encyclopedia that presents a strange taxonomy of animals, dividing them into categories. The show calls attention to the various ways in which objects and information are given meaning through association and representation. Works by Jennifer Dalton, Mike Estabrook, Chad Hagen and Paho Mann. Curated by Susan Thompson. Through Saturday, December 4, 2010. 120 Essex Street located in the South end of the Essex Street Market, Manhattan. Free admission.

Christmas Quilt: Colonial Fuguing, Tunes, Jigs, and Reels at The Cathedral of Saint John the Divine
Enjoy 18th-century, New England shape-note anthems and hymns sung by Early Music Foundation's men's vocal ensemble, generously spiked with English country dance tunes played by a lively band of fiddle, flute, bass and guitar. Saturday, December 4, 2010, 8pm – 9pm. Amsterdam Avenue at 112th Street, Manhattan. Tickets $40.

The Metropolitan Opera presents Carmen
The Metropolitan Opera presents Carmen, the tragic tale of naive love and passion, in the return of the acclaimed new production by Richard Eyre. Through January 13, 2011. 64th Street between Columbus and Amsterdam, Manhattan. Tickets start at $30.

The Lesbian and Gay Big Apple Corps Symphonic Band presents Come Follow the Band
The Lesbian and Gay Big Apple Corps Symphonic Band presents Come Follow the Band at Symphony Space. The performance will feature music from The Beatles, Rodgers and Hammerstein and Earth, Wind & Fire. Composer John Corigliano will be honored. Special guests include Conductor Jonathan Strasser and Host Raphael Miranda. Saturday, December 4, 2010, 8pm- 10pm. 2537 Broadway at 95th Street, Manhattan. Tickets start at $17.

New York City Ballet presents Meet The Artists at the David Rubenstein Atrium
A 45-minute pre-Nutcracker performance program for families with children four and older. New York City Ballet dancers, musicians, and teaching artists will get your body moving and inspire your imagination! Join us as we investigate the story, music, movement, and themes of the cherished holiday classic, The Nutcracker. Saturday, December 4, 2010, 11am. David Rubenstein Atrium at Lincoln Center, Broadway (between 62nd and 63rd Streets), Manhattan. Free admission.

Winter Family Day Celebration at The Morgan Library and Museum
Join the Morgan for an annual family day celebrating the exhibitions Mark Twain: A Skeptic's Progress and Charles Dickens's Christmas Carol. Travel back to Victorian London as you mingle with Dickens's characters (members of the troupe Grand Falloons), watch Mark Twain's America come alive with a show featuring Tom and Huck, listen to live ragtime music by pianist Roy Eaton, learn the Two Step and the Cake Walk, and more. Appropriate for ages 6–12. Sunday, December 5, 2010, 2pm – 5pm. 225 Madison Avenue at 36th Street, Manhattan. All events are included with admission to the Morgan: $12 Adults; $8 Children (under 16), Seniors (65 and over), and Students (with current ID).

Queens

1001 Inventions at New York Hall of Science
The New York Hall of Science hosts the US premiere of 1001 Inventions. Discover a forgotten history of science and scholarship in this hands-on exhibition. The centerpiece of the exhibition is a 20-foot replica of Al-Jazari's "elephant clock," which dates to the 13th century. Other signature elements include a model of a ninth century flying machine and a scale model of a Chinese junk ship built in the 15th century. Starting Saturday, December 4, 2010. 47-01 111th Street, Queens. Free with Museum admission: $11 adults, $8 children and seniors.

Holiday Open House at Queens County Farm Museum
Guided tours of the historic Queens County Farm Museum farmhouse. Enjoy traditional folk art, craft activities for children and mulled cider. Sunday, December 26 to Tuesday, December 28, 2010, 12pm – 4pm. 73-50 Little Neck Parkway, Queens. Free admission.

American Bolero Dance Company presents A Tablao Flamenco for the Holidays
A special presentation of American Bolero Dance Company's Tablao Flamenco series featuring live performances of flamenco, classical Spanish dance, and Argentinean tango, with a holiday twist! Featuring Gabriela Granados, José Moreno, Sol La Argentinita, Pedro Escudero, Yamila Viana, Alfonso Cid, Aurora Reyes, Basilio Georges, Cristian Puig. Saturday, December 4, 2010, 8:30pm. 41-01 Broadway, 2nd Floor, Queens. Adults $22; Seniors $18; Children under 12 years $15.

Thalia Spanish Theatre presents Fuente Ovejuna: Ciudad Juarez!
An adaptation by Sergio Adillo of a play by Lope de Vega. The murders of hundreds of women in Ciudad Juarez are viewed through the prism of this classic from Spain's Golden Age. With guest artists Mariachi Flor de Toloache. Performed in Spanish with English supertitles; directed by Lucia R. Miranda. December 3-12, 2010. 41-17 Greenpoint Avenue, Queens. Tickets $15 dollars; $12 for students and educators.

Staten Island

St. George Holiday Ball at the Staten Island Museum
The Staten Island Museum hosts a holiday party with guest performance artists from Day De Dada and treats donated by local eateries. 21 and over. Saturday, December 11, 2010, 7pm – 11pm. 75 Stuyvesant Place, Staten Island. Free to members, $5 for non members. RSVP by calling (718) 483-7105.

Conference House Museum presents Colonial Christmas
Tour the Conference House Museum and enjoy period music and decorations, children's programs, and a visit with Father Christmas. The Conference House is owned by the New York City Department of Parks and Recreation, is operated by the Conference House Association, and is a member of the Historic House Trust of New York City. Sunday, December 12, 2010, 10am – 4:00pm. 298 Satterlee Street, Staten Island. Suggested donation $3.

Bringing Up Baby: Children's Furniture and Family Life at Historic Richmond Town
Imagine bringing up a baby without running water, an automatic washing machine, or no disposable diapers! The Staten Island Historical Society's exhibition of children's furniture from 1780 to 1925 explores the role of these items in American homes. Today's parents have a unique opportunity to look at the family life of their ancestors with this exhibit. Through Friday, December 31, 2010. 441 Clarke Avenue, Staten Island. Adults $5.00; Seniors $4.00; Children (5-17 years of age) $3.50; Staten Island Historical Society Members free.