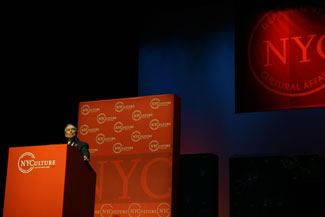 November 1, 2010 - On Monday, November 8, 2010, Mayor Bloomberg will honor six outstanding members of New York City's cultural community at the 2010 Mayor's Awards for Arts & Culture. The awards ceremony will be held at Lincoln Center's Alice Tully Hall and will be co-hosted by Meryl Streep.

This year's honorees are the Brooklyn Community Foundation, accepted by Executive Director Marilyn Gelber; the Sandy Ground Historical Society on Staten Island, accepted by Executive Director Sylvia D'Alessandro; photographer Bill Cunningham; Amy Fischetti-Boncardo, Executive Director of the Queens County Farm Museum; and Deborah Effinger, Principal of the Bronx Theatre High School. Alvin Ailey Dance Theater Artistic Director, Judith Jamison, will receive New York's highest award for outstanding achievement in the arts, the NYC Handel Medallion.

For more information about cultural events in New York City, visit www.nyc.gov/nyculture.

About the Mayor's Awards for Arts and Culture
The Mayor's Awards for Arts and Culture were created in 1976, when the Department of Cultural Affairs was founded, and given almost annually until 1994. Mayor Bloomberg revived the awards in 2004, with the assistance of the Cultural Affairs Advisory Commission, chaired by Agnes Gund, whose members are a diverse and distinguished group of advocates for the City's non-profit cultural community. The Awards acknowledge and celebrate the role individual artists, arts educators, cultural organizations, corporations and philanthropists play in the public-private partnerships that sustain the City's creative vitality and economic well-being.

About the NYC Handel Medallion
The NYC Handel Medallion was established in 1959 by Mayor Robert F. Wagner to honor "outstanding achievement in the fields of art and music." Named for the composer George Frideric Handel (1685-1759), the award was first given at the Handel Festival, a series of 32 concerts held in New York City in 1959 to commemorate the 200th anniversary of Handel's death. The NYC Handel Medallion is New York's highest award for achievement in the arts.