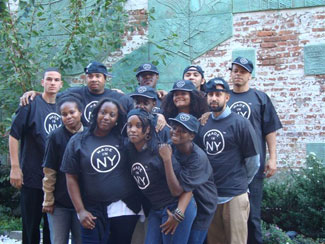 November 1, 2010 - The "Made in NY" Production Assistant Training Program has reached another milestone: Cycle 20 recently celebrated its graduation from the program, and more than 250 individuals have now been certified as "Made in NY" PAs.

The program, which was developed in partnership between the Office of Film, Theatre and Broadcasting and Brooklyn Workforce Innovations, provides free training to New Yorkers to prepare them for entry level jobs in the production industry.

During a ceremony on October 8, eleven PAs joined their family and friends to celebrate their accomplishments. "Your success," said Katy Finch, the program director, "depends on the people in your life." A twelfth PA, Clifford Jean, wasn't able to take part in the ceremony because he was already working on a production.

"I've been where each of you have been," said Sky Dietrich, the program's career services coordinator and a graduate from Cycle 3. "You've made transformations; you're different people."

Mara Prater, the associate program director, reminded the PAs of the sleepless nights and early call times they have experienced. "Despite these hardships, you're here today."

Before receiving their "Made in NY" certificates, the newly-minted PAs took the opportunity to share their thoughts on what graduating from the program meant to them.

"Some, if not all, of us have faced hardships," said Adrian Moron. "Now, we've got the skills to succeed, not just in production but also in life."

"It's a dream to get into this program," said Brian Joseph. "You've all inspired me." Joseph went on to share individual stories with each of his fellow PAs.

"You are part of an elite group of well trained individuals destined for success," said OFTB's Julianne Cho. "You've got this special knowledge that other PAs don't have." Cho went on to remind the "Made in NY" PAs that when they're working on location in the City, they are the face of a production, the first point of contact a resident has with a production.

The newest batch of "Made in NY" PAs will now receive two years of job placement assistance from BWI and will join their fellow program graduates, who have worked on more than 1,000 productions since the program's inception in 2006.