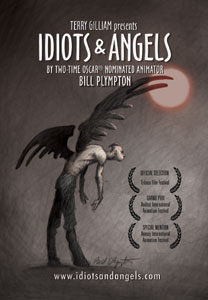 October 1, 2010 - A "Made in NY" TV show returns this month along with a slew of independent features.

HBO's "In Treatment" begins its third season as Gabriel Byrne returns as Dr. Paul Weston. The new cast includes Irrfan Kahn, Debra Winger, Amy Ryan and Dane DeHaan. "In Treatment" premieres Monday, October 25 and Tuesday, October 26 at 9pm EST with two back-to-back episodes each night.

The critically-acclaimed animated feature Idiots and Angels opens in New York this month as well. Writer-director-animator Bill Plympton, who hand-drew the entire animated feature, is a two-time Oscar nominee. A black comedy about a selfish man who mysteriously grows a pair of wings on his back, Idiots and Angels has been an official selection at over a hundred film festivals worldwide. The film can currently be seen exclusively at the IFC Center, where its run has been extended to October 21.

Michael Imperioli makes his directorial debut on October 1 with The Hungry Ghosts. The film stars Steve Schirripa, Sharon Angela, Nick Sandow and Aunjanue Ellis as New Yorkers hungry for emotional and spiritual fulfillment.

It's Kind of a Funny Story begins a limited release in New York on October 8. The film stars Keir Gilchrist as a 16-year-old who admits himself into a mental health clinic. The rest of the cast includes Zach Galifianakis, Emma Roberts and Viola Davis and is based on Ned Vizzini's 2006 novel by the same name.

The Miracle of Spanish Harlem kicks off Hispanic Heritage Month in New York on October 1 with an advanced screening at El Museo del Barrio. The film tells the story of a widower and father of two, struggling to get by, who gets a second chance at love. Scheduled to open in theatres later in the month, Kate Del Castillo and Luis Antonio Ramos star in this tale of redemption in New York City.

Opening at the Quad Cinema on October 8 is As Good As Dead. Carey Elwes stars as a photojournalist and former political activist whose life spins out of control when he is attacked and held responsible for a crime his assailants believe he took part in. Andie MacDowell, Brian Cox and Frank Whaley also star.